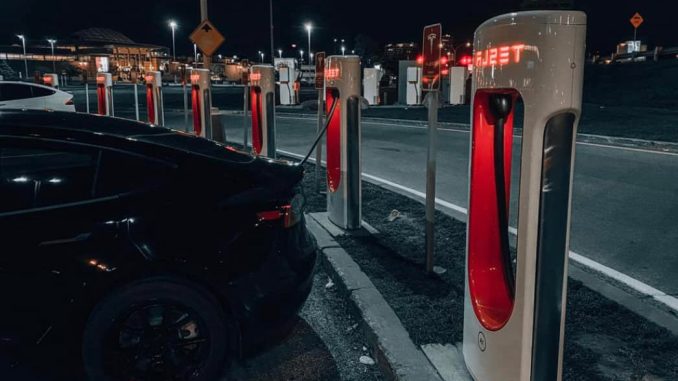 Tesla owners visiting the Laval Urban Supercharger are in for a nice surprise as the 72kW Urban Superchargers have been upgraded to V2 stalls.
Located at CF Carrefour Laval at 3035 Boulevard le Carrefour, the upgrade actually started back in July, however just two stalls were upgraded at that time according to Canadian Supercharger sleuth Marco.
Juicing up at the only V2 Superchargers in Laval pic.twitter.com/Sz8JyxRBCG

— Marco (@MarcoRPTesla) July 19, 2022
That changed at some point over the last few days as now all 20 stalls have the updated pedestals and more importantly, are now capable of charging at up to 150kW.
A member of the Tesla Model 3/Y Quebec Facebook group shared this photo showing off the new pedestals, who reported a peak charging rate of 129kW or 927km/h with their Tesla.
As far as we are aware this is the first time Tesla has ever upgraded an Urban Supercharger to a V2 station. Hopefully this is the start of a new trend where Tesla upgrades their existing infrastructure to provide faster charging speeds.
While it is not the latest V3 Superchargers, it will be a welcomed improvement as owners will experience more than double their previous charging speeds translating into shorter charging sessions and quicker turnover in Laval.
Tesla's website and in-car navigation still shows the Laval Supercharger as being a 72kW Urban station, but we expect that to be updated very soon.
There are two new Superchargers currently under construction in Quebec, one in Berthierville and another in Saint-Jérôme.