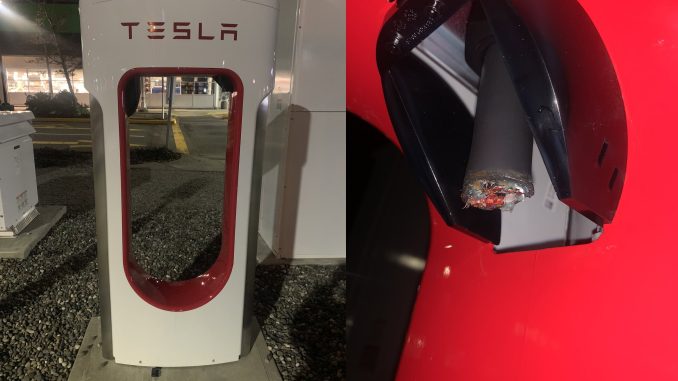 The new Tesla Supercharger station in south Surrey, British Columbia has been under construction since October.
It looked like the site was going to finally get power and open soon as all the necessary equipment had been installed and BC Hydro crews were spotted working at the station earlier this week.
https://twitter.com/DriveTeslaca/status/1483585132447498240
However, those plans have likely suffered a setback as vandals have damaged four of the twelve Supercharger pedestals.
Drive Tesla reader Kyle Conway shared these photos with us showing the charging cables have been cleanly cut just inches from where they come out of the pedestal.
Sadly, someone has vandalized 4 of the chargers. pic.twitter.com/O42UT55UWi

— Kyle Conway 康有为 (@KC_Lumberguy) January 22, 2022
Unfortunately the vandals that did this will likely only get $10 to $20 at most for the copper inside the cables, if they will even be accepted from scrap metal recycling facilities.
This isn't the only vandalism the site has suffered this week. Photos shared on the TMC forum by joshuajag on Monday show the utility equipment had been tagged with graffiti and the plastic covers surrounding the charging cables and connectors had been forcibly removed.
Hopefully crews have enough replacement cables on hand and this doesn't delay the opening of the south Surrey Supercharger by too much.
The station is location in the parking lot next to Save-On-Foods at 3033 152 Street.