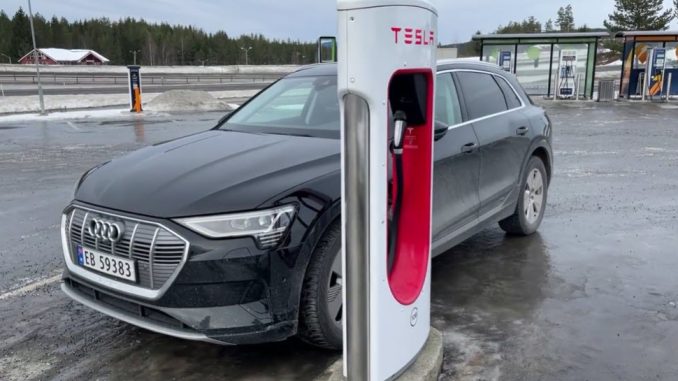 After a lot of speculation, Tesla finally opened up their Supercharger network to other electric vehicles (EVs) last year.
The automaker is taking a cautious approach, running a pilot program at 10 Supercharger stations in the Netherlands since November.
We reported last month that Norway was potentially going to be the next market to welcome the pilot program.
Based on some recent sightings in the country, it looks Tesla has started testing ahead of an official expansion.
According to a report by elbil24, several non-Tesla vehicles have been spotted plugged in at local Superchargers across the country.
In one video we see an Audi e-tron plugged in and receiving a charge. Just before starting to shoot the video, a BYD Tang and Nissan e-NV 200 were also reportedly plugged in.
After publishing their story, several readers commented that they had also seen other EVs plugged in Superchargers in Oslo.
Tesla has not made an official announcement about the expansion of the pilot project, but with this testing and based on information received by Drive Tesla in recent weeks, the automaker is expected to make that announcement before March 31, 2022.
You can watch the video at the link below.
https://twitter.com/AdamBerg4680/status/1487141308963639298
Source: elbil24.no