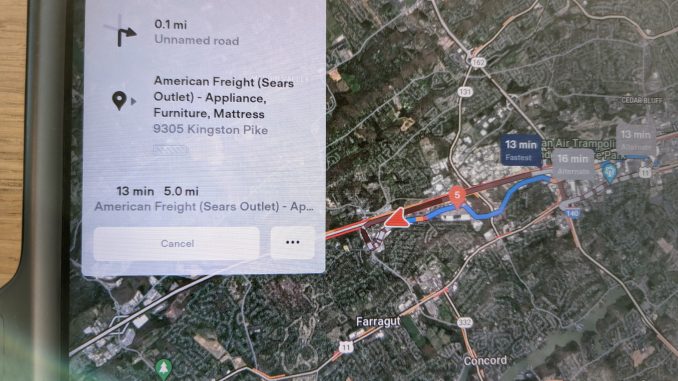 Most navigation systems provide users with multiple route options when entering in a destination, giving you the option to take a slightly longer, either by time or distance, route to your destination. One navigation system that doesn't do this is Tesla's built-in system, but that is going to change soon.
According to hacker @greentheonly, the coding for providing alternate routes in the built-in navigation system is already in place, but has yet to be turned on by Tesla.
Green shared a photo and video of the alternate routing to show it does actually work. As you can see in the video, once you enter in your destination the alternate routes appear on the screen with a grey line instead of blue and a small bubble above them showing how long each route will take. Simply tapping on the bubble will select the route.
video of of selecting an alternative route resulting in a change to the route display. pic.twitter.com/rPdkWzJjhn

— green (@greentheonly) June 29, 2022
According to green, he is running the current Full Self-Driving (FSD) Beta version 10.12.2, otherwise known as software version 2022.12.3.20. However, he said he had to do "a little extra prodding" to have the feature appear for him.
Green added that the feature is already active in China, so it shouldn't be long until Tesla turns it on for everybody.
Another recent change to Tesla's navigation system is that it can now automatically reroute you to a less busy Supercharger if your original station is full. Green discovered hints of this in the code a few months ago, and it just went live last week.