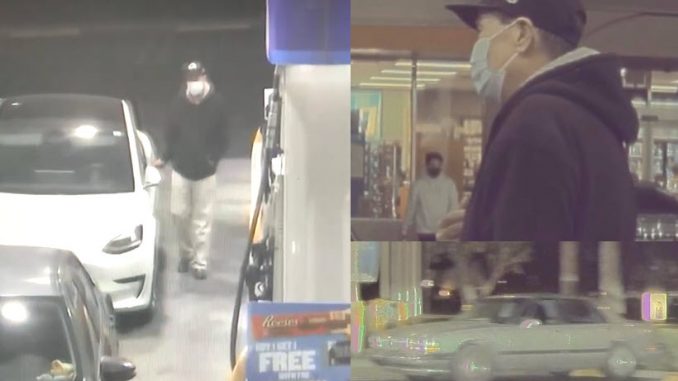 Usually when a Tesla is keyed or vandalized, it happens when the car is in a mall parking lot or outside someone's home. This latest incident of vandalism against a Tesla occurred in a place you might least expect to find one, a gas station.
The Model 3 owner tells Drive Tesla he was stopped at a gas station in north Orange County on March 2, 2021 at around 10:00pm to help refuel a friend's car. After exiting his Tesla, a man approached him asking for money.  The owner told him he had none on him, after which he began explaining that he is a cancer patient and needs the money for treatment.
After repeatedly telling him he has no money, the man walked away and hid behind the gas pump until the owner was out of sight.
As soon as the coast was clear, he walks up to the Tesla and keys the driver and passenger doors. After committing his crime, he calmly walks away.
Unfortunately despite having Sentry Mode active (you can see the lights flash in the video), the actual keying wasn't captured. The victim was able to get some footage from before the incident that gives us a pretty good view of the suspect and his car. He was able to record the gas station surveillance footage showing the keying.
The suspect is described as an Asian male, likely in his 40's. He was driving what appears to be an early 90's Buick LeSabre with a handicap decal and no front license plate. The incident took place in north Orange County in the area of La Palma or Buena Park.
If you have any information on the identity of the suspect, please email tips@driveteslacanada.ca.
You can check out the full video below.