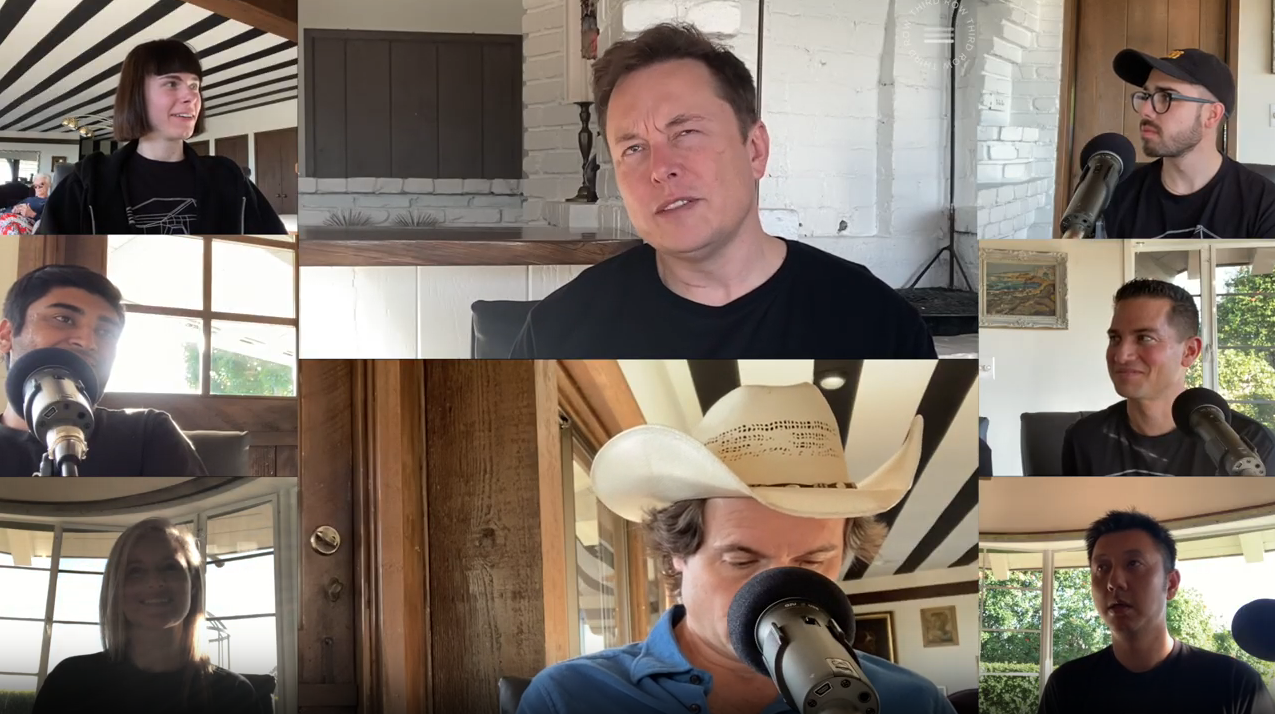 What started as a podcast between friends and Tesla enthusiasts has now led to a 3.5 hr sit down talk with Tesla and SpaceX CEO, Elon Musk.
Save with big discounts at your favourite Tesla accessories stores, like 10% off at Tesmanian, TesBros and Nikola Pro, plus many more. Coupon codes at DriveTeslaCanada.ca/deals.
The first part of the interview was released last week, and already has almost 200,000 views. In it Musk discusses everything from one of Tesla's latest acquisitions, to his early days with Paypal.
It is a lengthy interview, but worth the watch, even if done over a few days. Here is the description of the interview from Thirdrow.
Elon Musk is known for many different things – however, not many people seem to know a lot about Elon as a person, what led to him putting everything on the line to build SpaceX & Tesla, and why he continues pushing for a better future. In this video, Elon is sharing his story – raw & (almost) uncut.
Part 1
01:21 – Can you talk about the way you engage with customers online?
03:21 – Why do you like Twitter so much?
06:38 – What sticks out to you out of the things you've achieved? 
14:01 – Talking about this location
15:38 – Not enough people understand how Elon tries to make big changes with small products
17:03 – Did you always know you wanted to use business to solve problems?
26:23 – Why go and put your money to SpaceX?
28:32 – Why did you try to get capacitors into EV's back then?
30:31 – Maxwell
31:27 – Other car companies batteries
35:09 – Why was China the place chosen for GF3?
36:39 – How did Tesla manage to get the first fully owned car factory in China?
38:06 – How much have the production hell lessons helped you for the China factory?
41:28 – What are the misconceptions about your personal history that you would want to correct?
43:31 – Share more about your upbringing and why you came to North America.
53:00 – What did people think about Zip2?
58:26 – Kimbal shows up and they talk about Zip2
1:03:45 – Where did you get the technical knowledge to build Zip2?
1:05:14 – Do you still code?
1:19:42 – What made you do PayPal?
1:28:07 – So what made you part ways with PayPal?
1:29:31 – You seem to be attracted to crazy ideas, how do you find the courage?
1:32:57 – You love code but you don't seem to be bullish on Bitcoin, why is that?
1:35:40 – Would there be a direct democracy in Mars? What kind of laws?
1:42:35 – Start of SpaceX
1:49:30 – Did you think you are going to do dozens of launches a year?
1:53:45 – Early SpaceX
1:58:46 – Start of Tesla
Get 10% off at Tesloid.ca or Tesloid.com (formerly Tesla Shop) with coupon code DTC10 at checkout. Quality Tesla accessories with FREE shipping across Canada and the US.
Part 2