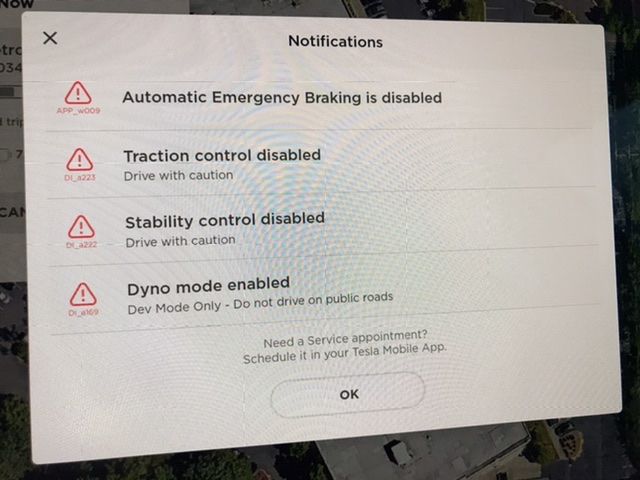 It appears that Tesla released a new feature in their 2019.40 software update that no one knew about until someone discovered it within an EPA filing.
A member of the Tesla Owners Online forum, Long Ranger, discovered the EPA filing and description of 'Dyno Mode' that rolled out to production cars on October 7, 2019, and then deployed to the entire Tesla fleet in their 2019.40 software update later that month.
WARNING: A number of key safety features are disabled in Dyno Mode, which can get you into trouble really quickly if you are not careful, especially with RWD. There have already been reports of people underestimating how much these safety features keeps their cars in check, resulting in accidents and damages, like the video below. Only use this feature on a closed circuit and away from other cars and pedestrians. By accessing Dyno Mode, you are doing so at your own risk.
To access Dyno Mode, press and hold the Tesla T logo on your in-car display. After a few second, a prompt will appear asking for code. At this point, enter "dynotest" then hold down the left turn signal when touching OK.
To turn off Dyno Mode in your Tesla, select "Power Off" from the Safety and Security tab.
Here is the full description from the EPA filing:
Tesla, Inc. is currently completing the implementation of user interface (UI) features that enable access to our "Dyno Mode" for all users. This feature is required to be enabled to maintain representative driving controls while testing on a chassis dynamometer. Access to Dyno Mode will be introduced at the start of production on October 7th, 2019, and will be deployed to the entire Tesla fleet in version 2019.40 over the month of October 2019.
In order to preserve the proper driving functionality and behavior, Dyno Mode executes the following features:
‐ Disable Stability Control to ensure no false interaction with the dyno.
‐ Disable Traction Control to ensure no false interaction with the dyno.
‐ Disable Active Drive Line Damping to avoid inducing oscillations in the dyno.
‐ Force the torque split to be as it would be under normal straight‐line driving conditions
‐ Disable Brake Disk Wipe
When the Stability Control and Traction Control systems become faulted, as is the case on a dynamometer where driving is detected but movement is not, regenerative braking is disabled so that unintended braking torque does not lead to loss of traction or control on low friction surfaces. Disabling Stability Control and Traction Control prevents those systems from disrupting regenerative braking behavior, maintaining the most representative driving energy consumption.
Dyno Mode can be activated by the user, according to the following steps:
1. Vehicle must be in Park.
2. While holding down left (turn signal) stalk, press and hold the Tesla "T" logo at the top of the screen.
3. Enter the Dyno Mode activation password, "dynotest".
Dyno Mode can be deactivated by the user by pressing the "Power Off" button within the Safety & Security tab of the UI.
We are targeting completion of this Dyno Mode feature for installation in all new production vehicles by October 7th, 2019. Over the month of October, we will be rolling out this feature to our US fleet, enabling all Tesla vehicles to enter Dyno Mode.