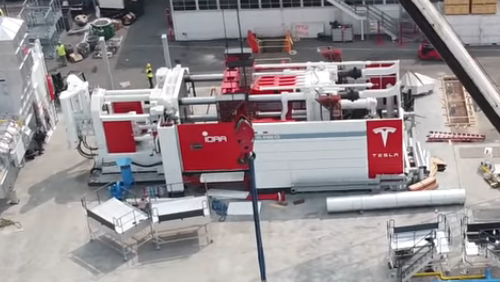 According to a new video from IDRA, Tesla appears to be on track to have 10 Giga Presses deployed to its production facilities by the end of 2021. Giga Presses are the giant die-casting machines that create single cast moulds for the Tesla production line.
Tesla currently has the Giga Press installed in both the Fremont factory and Giga Shanghai. These machines produce giant casts which replace multiple machines in a traditional assembly line.
Tesla has ordered a total of 11 Giga Presses for their facilities which could prove to be a better long-term deal than a traditional stamping line. Plus, these presses offer flexibility. Tesla can change dies to produce a new vehicle rather than change an entire assembly line.
Tesla also keeps pushing what IDRA can create. In the Q4 call with investors, Elon Musk noted that they had ordered an 8,000 ton casting press. This is the largest machine that IDRA has ever created and will produce the Cybertruck.
Tesla has always pushed the envelope on the manufacturing side. These Giga Presses are a significant investment but could prove to be the most important machine on the production floor for Tesla.
h/t: Teslarati