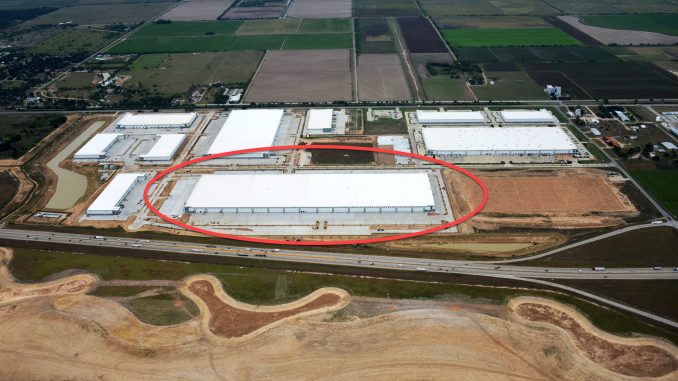 Tesla has an already expansive real estate portfolio, but it has recently grown by 1.03 million square feet with a newly signed lease for a building in Houston, Texas. Tesla has not officially announced the lease or what it plans to do with such a massive building, but it appears they will use it for cell production and parts storage and distribution.
The lease was first reported by real estate brokerage firms Cushman & Wakefield and Savills, which said in a recent research report that late last year Tesla signed the lease for 111 Empire West in Brookshire, located about 35 minutes west of Houston. When contacted by the Houston Chronicle for confirmation, Empire West Business Park, the landlord and developer of the project declined to comment, however an occupancy permit issued by the City of Brookshire for Building 9 of the development names Tesla as the lessee.
The city has yet to approve any permits filed by Tesla for the facility, but company representatives have been in contact with the city and permits for a portion of the building are in the process of being approved, according to Mike Barnes, Brookshire's interim city administrator.
Tesla has already published several job postings in the Brookfield area. In one posting initially published 4 months ago on LinkedIn, Tesla is looking for a Associate Manager, Production Control. The job description says the successful candidate "will have the responsibility to design and oversee material handing functions in the Cell Materials production area" as well as working "with inventory control, Production Control process, and various other supply and logistics organizations."
Another posting for a Production Control Supervisor, Warehouse says they will "work closely with the Parts & Service Buyers, Logistics and Quality teams, as well as with internal and external customers around the globe" and "engage in all phases of customer assistance within a dealership parts department, including retail, service and wholesale."
Tesla has clearly taken a liking to Texas. The company has moved its headquarters from California to Austin, where it has also built a massive Gigafactory. Tesla is also working towards building a lithium refinery plant just outside of Corpus Christi. It has already published job postings for the refinery.
Tesla has also leased an eastern San Antonio warehouse with 440,000 square feet of space used to store manufacturing components for use at Giga Texas.
Tesla expands their footprint in Texas with a new 440,000-square-foot warehouse in San Antonio