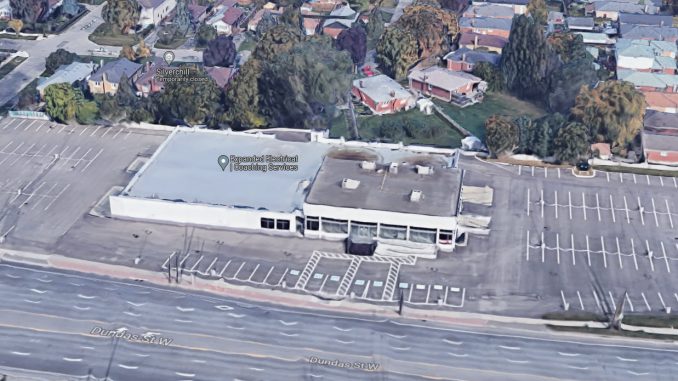 Ontario is getting another Sales, Service and Delivery Center as a new location is coming soon to Etobicoke, Drive Tesla has learned. This addition will bring the number of Tesla locations in and around the Greater Toronto Area to five.
According to a source with knowledge of the deal the new Service Center will be located at 5500 Dundas Street West at what used to be the Evans Ford dealership. This will put Tesla right in the mix with legacy automakers such as Chrysler located directly next door, and Mazda, Jaguar, Volvo, Nissan, Audi, Ford, Kia, Honda, and Mercedes-Benz all in close proximity.
The most recent lease listing for the property shows Tesla will be taking over the 31,125 square foot building, which features a service area, showroom and reception area, and three overhead doors for easy access. One unique feature is that the building also has a rooftop parking area that is accessed from a ramp at the rear of the building.
This rooftop area has 60 parking spaces, and the ground level parking area has another 210 spaces, leaving plenty of space for cars waiting to be delivered to new owners, and for existing owners bringing their cars in for service.
Based on interior photos from the listing it appears there will be a substantial amount of work for Tesla to complete to renovate the space for their needs. From what we have been told this work hasn't started yet, so it is likely that the Etobicoke Service Center won't open until the late spring or summer of 2023.
If you are in the area and can check out this location, let us know in the comments below or email us at tips@driveteslacanada.ca.