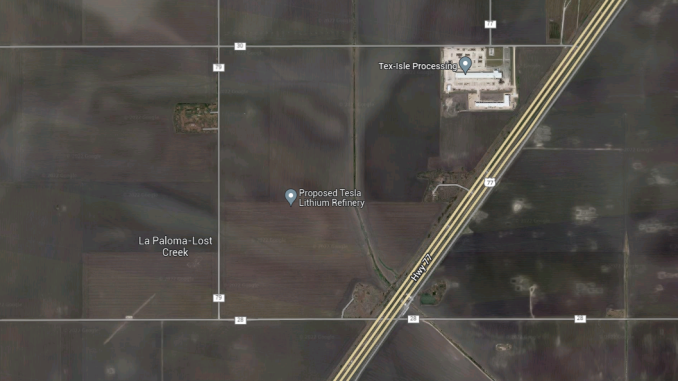 Tesla's proposed lithium refinery in Texas has cleared another hurdle on its path toward development as the project has been approved for local tax incentives from the Robstown Independent School District.
However the project is still up in the air and it looks like Canada is also a potential candidate for a Tesla lithium refinery, and a decision on the final location could come before the end of the year.
At a Robstown Independent School District meeting on December 5, board members voted unanimously to approve a taxable value limitation for the refinery under Chapter 313 of the Texas Tax Code, according to a report by the Austin Business Journal.
With this new agreement, which would start in 2025, the taxable land value of the site would be capped at $20 million for the first 10 years after it opens. Tesla has previously said they would invest up to $365 million into the project if approved, and that it could start operations in the fourth quarter of 2024.
This agreement could save Tesla up to $16.2 million on its property tax bill over the 10-year period, according to an analysis by the Austin Business Journal.
Tesla is also seeking tax incentives from Nueces County. In September Nueces County Commissioners voted in favor of establishing a tax increment reinvestment zone (TIRZ) in an area of the county where Tesla is proposing to develop the lithium refinery.
Negotiations on further incentives have since been moved behind closed doors.
Tesla is proposing to build the facility south of Robstown, where it would produce battery-grade lithium hydroxide. Upon completion it would become the first facility of its kind in North America.
The finished product would be shipped to Tesla's battery manufacturing plants, as revealed in documents submitted to the Robstown Independent School District.
However it appears Canada could also be in the running for a similar project to be built north of the border.
According to a report by the Caller-Times, Tesla's Senior Global Director Rohan Patel said during a public hearing on December 5 that the automaker would decide between sites in Nueces County, Louisiana and Canada for the lithium refining facility in the coming weeks.
There have been many hints from Elon Musk and the Canadian government over the last few months that Tesla could be expanding into Canada in a big way.
Based on the latest information received by Drive Tesla, the automaker is close to signing a deal to set up a facility in a region north of Toronto, Ontario. We were expecting that project to be a battery manufacturing facility, but with this latest development it looks like it could be a lithium refinery.