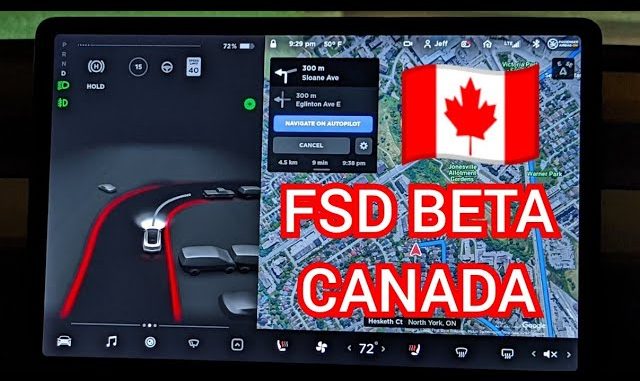 Tesla first released their Full Self-Driving (FSD) Beta software in October 2020. As with other features that first get deployed in the US, Canadians were hopeful it wouldn't take long for it to come north of the border.
However more than one year later, we have yet to see an official release in Canada because of what Elon Musk says are "subtle differences" between US and Canadian driving.
Even though it hasn't been released in Canada yet, US owners are now able to travel across the border and test it out on Canadian streets. As we saw last week from beta tester Jeff (@JeffTutorials), it works just as well here as it does there.
Fittingly the creator of the #FSDBetaCanada hashtag and Drive Tesla contributor Mother Frunker was able to test it out this weekend.
In a video published to his YouTube channel this afternoon, we see the Model 3 perform mostly left and right turns on wet Toronto streets last night.
Perhaps the most impressive test was an unprotected left hand turn across a large intersection with pedestrians crossing at the same time.
Check out the full video below, including one possible "subtle difference" discovered by Jeff and Mother Frunker.
Stay tuned as there will be more videos coming soon, including the answer to one of the biggest questions – does FSD Beta work on Santa Mode?