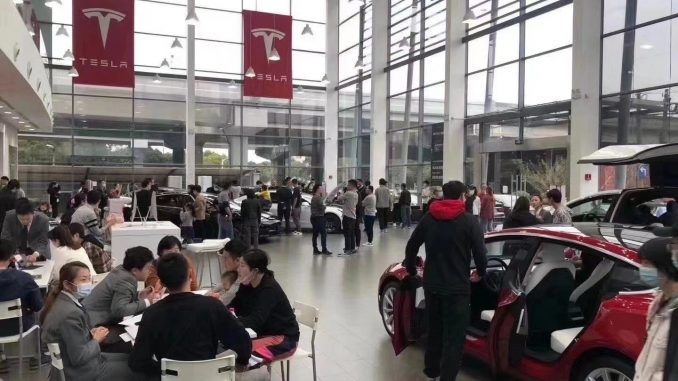 Last week it was reported that Tesla was reevaluating their sales strategy in China. The report from Reuters, citing anonymous sources, said the automaker was considering closing some of their stores in malls and shopping centers due to high rents and decreased foot traffic.
Instead Tesla was reportedly opting to focus on locations that offered more space and that could also service vehicles.
As Tesla China has been known to do in the past, they have denied the report to local media.
The company clarified to Yicai that its sales channels in China are expanding at a normal rate, adding that they have no idea where the information came from.
This clarification is evidenced by the fact Tesla has opened new retail locations in malls in Shanghai, Xi'an, and others since September, according to Yicai. This brings the total number of stores in Shanghai alone to 26.
Tesla China did not comment on the other part of the Reuters report which stated the company was ramping its service offerings in the country. As of last week more than 300 job postings were published on the Careers website under the Service category.
No change to their sales strategy in China should come as no surprise considering its has paid off in spades so far. The company achieved near-record sales in August, and Giga Shanghai now has the capacity to produce over 1 million vehicles per year, making it Tesla's most productive factory in the world.
Many of those newly built cars will also be shipped off to other countries as Giga Shanghai is also Tesla's primary vehicle export hub. Last month the company exported a record 42,463 vehicles.