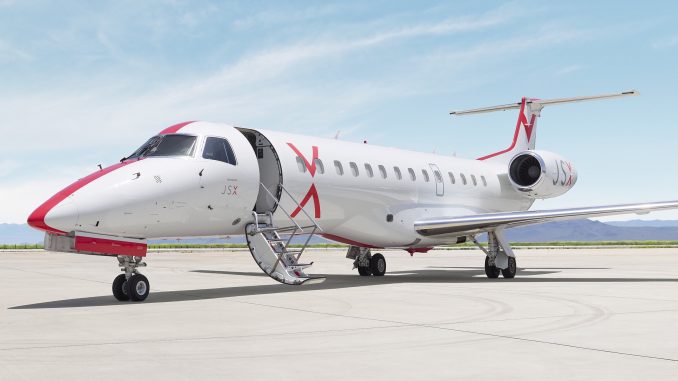 SpaceX recently held a demo of their Starlink internet service onboard a JSX plane for a select group of media. The demonstration was to show off just how well the satellite internet service works at 30,000 feet in the air and comes at a time when SpaceX is trying to secure more deals with airlines.
According to Bloomberg as many as twelve reporters were invited to join the one-hour flight from Burbank to San Jose, California last week. While there were about a dozen passengers, additional devices on board increased demand on the service to the equivalent of about 30 passengers.
Once in the air speed tests conducted using the Ookla app showed downloads speeds exceeding 100 megabits per second (Mbps), easily enough to check emails and browse the internet, stream Netflix and YouTube, and even host video chats without any lag.
The demonstration was held aboard regional carrier JSX, which became the first airline to sign a deal with SpaceX for Starlink service on its planes. JSX operates flights in Arizona, California, Florida, Nevada, Texas and New York.
Hawaiian Airlines has also since announced it is adding Starlink to some of its planes and is hoping to offer the service for free to its customers starting next year.
While those two airlines are adding Starlink, Bloomberg reports that Delta and three of the other largest airlines in the US have passed up on signing deals with Elon Musk's aerospace company, deciding instead to stick with their current providers.
Part of the reason these airlines have not yet signed a deal with SpaceX could be because of the uncertainty with how well Starlink will perform on larger aircraft with more passengers. SpaceX satellites are smaller compared to the competition, about the size of a large pizza box, which should allow it to receive a signal quicker than others.
However, it is that small footprint which leads some to believe they won't have enough power to handle 300 passengers at 40,000ft in the air.
While SpaceX is trying to expand their reach in the air, they have been able to do so on the waters.
Royal Caribbean will be adding Starlink to all of its cruise ships, with the process to install the equipment already underway on several ships, with the service already up and running on the Independence of the Seas.