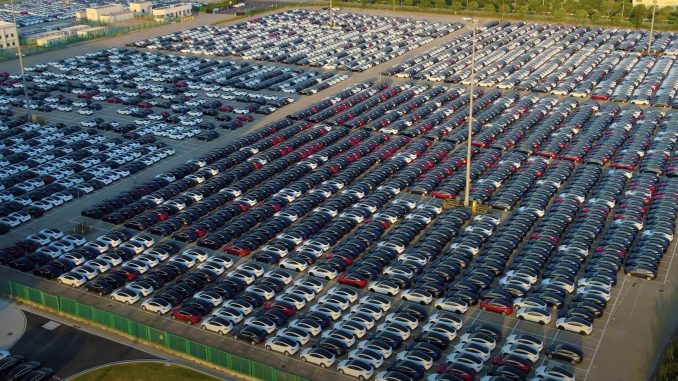 It looks like Tesla China is preparing for another massive export of vehicles out of the Port of Shanghai.
Thanks to YouTuber Wu Wa, we can see Tesla's dominating the storage lot at Shanghai's Nangang Terminal.
The sunset footage shows row among row of mostly Model Y's awaiting a car carrier to export the vehicles.
Twitter user Sawyer Merritt also uploaded a couple of screenshots from @bentv_sh footage from the terminal.
https://twitter.com/SawyerMerritt/status/1558110141962223617
Apparently, Sawyer counted every one of those cars… and his estimate is 8,800 vehicles and counting.
If that number is correct, it will break the previous record of 7,000 Tesla vehicles exported in mid-July.
That is excellent news as Tesla continues ramping up production after shutting down Giga Shanghai and both production lines for upgrades in July and August.
The Model Y line got up and running on July 18, while the Model 3 line came online on August 8.
It is not clear where these vehicles are being exported to as of yet.
However, as per the video, a significant amount of the vehicles are right handed drive.
So, they could be off to the United Kingdom, or most likely, Australia.
You can check out the video down below: