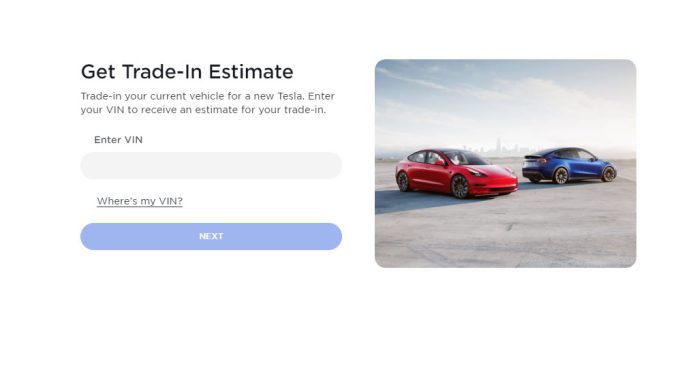 Tesla is once again providing trade-in estimates before you purchase a new Tesla. The trade-in estimate tool was removed last year due to extended delivery wait times that made providing a trade-in estimate difficult.
To get started with the tool, you simply need to enter the VIN of any vehicle, including non-Tesla vehicles. On the next page the year, make, model, and trim of the vehicle will be pre-populated, and you will be prompted to enter in additional information like the odometer reading, your ZIP code, the vehicle's accident history and condition.
Unfortunately the tool does not work for Canadians like it used to. In an internal email notifying employees of the change, it says the tool returned on July 7, but only for "US markets."
Click next and you will receive your trade-in estimate by email, typically within 24 hours or less.
Trade-in estimates from Tesla on Tesla vehicles has historically been quite low, and doesn't always take into account the value of Full Self-Driving (FSD) Capability.
With Tesla recently brining back Enhanced Autopilot (EAP) to North America, it will be interesting to see if Tesla values that suite of driver-assist feature in its trade-in estimates.
Tesla removed the trade-in estimate page in November last year when delivery wait times were beginning to extend close to a full year. This meant that by the time your new car was ready to be delivered, your trade-in offer had expired.
What is strange is that since November, delivery wait times have not shrunk and if anything are even longer than before for some configurations.
If you have requested a trade-in estimate, let us know in the comments below what your offer was and if you think it was reasonable.