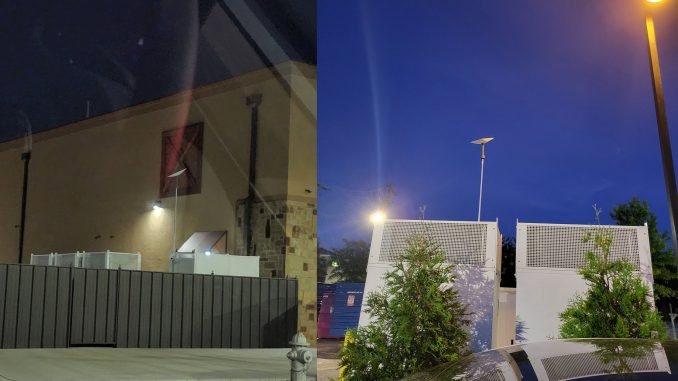 Late last year Tesla began borrowing from one of Elon Musk's other companies and began adding SpaceX Starlink WiFi at select Supercharger stations in the United States.
Since then we have seen the free amenity added to Superchargers in Canada and the United Kingdom.
Now more owners in the U.S. are reporting seeing Starlink added to their local Superchargers. Within the last month we have been able to find Starlink has been added to the following locations.
Grapevine, Texas (1001 Northwest Hwy)
#Tesla #Starlink
Looks like Dallas TX Grapevine supercharger has Starlink WiFi. First time getting to see one installed. pic.twitter.com/gvG550lW4k

— Marc Naseth (@MarcNaseth) August 12, 2022
North Charleston, South Carolina (4855 Tanger Outlet Boulevard)
Saw my first Starlink-ed Supercharger location yesterday! @SpaceX #Starlink pic.twitter.com/q2OFGOIbGN

— Niko Fabri (@niko_nerd) July 28, 2022
This now brings the number of reported Supercharger locations with Starlink WiFi to seven states and three countries.
Grapevine, Texas
North Charleston, South Carolina
Lexington, Kentucky
Macon, Georgia
Valdosta, Georgia
Lisbon, Connecticut
Lake City, Florida
Long Island, New York
Surrey, British Columbia
Rugby, United Kingdom
Tesla vehicles pulling up and plugging in automatically connect to the Starlink WiFi service, which in all cases we have found is named 'Tesla Service.'  The free WiFi allows owners to watch Netflix, Disney+, or other streaming video option while charging up their cars.
The promise of free WiFi at Superchargers dates back to April 2019, when Musk said stations would get the amenity "over time." With the growth and expansion of Starlink, this is now a much easier task for Tesla to accomplish.
As recently as October 2021 Musk has reiterated that promise, but he did not provide a timeline for how quickly the rollout will happen.
Let us know in the comments below if you have spotted Starlink at your local Supercharger.