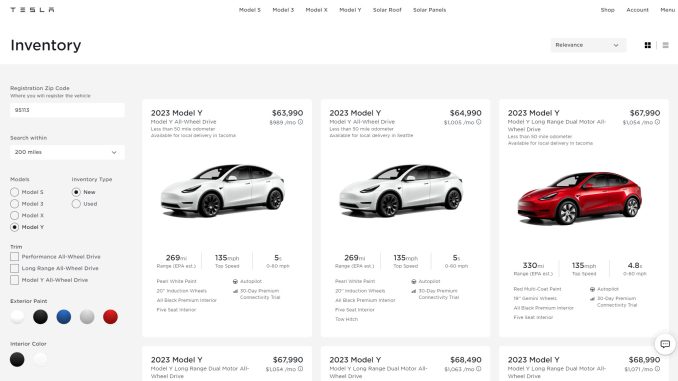 Tesla has yet to officially add the Model Y All-Wheel Drive (AWD) with 4680 cells and a structural battery pack to its online configurator, but today more than 50 of the new SUVs were added to the existing inventory section of their website.
First spotted by The Kilowatts, the 4680 Model Ys built at Giga Texas start at $61,990 USD, the same price the last time we saw these EVs appear on the website and the same price that was seen in the source code a few weeks ago.
According to third-party inventory tracker WaitingForTesla, as many as 58 Model Y AWDs (sometimes referred to as the Model Y Standard Range) with 4680 cells were listed on Tesla's existing inventory at the time of publication. Only one of the electric SUVs had the base price of $61,990, with the majority listed for $63,990, which included some sort of upgrade like either paint of wheels.
The Model Y AWDs were available across the US from California to Florida, but unfortunately none were listed in Canada.
BREAKING: It appears Tesla is has restored the Standard Range AWD Model Y (269mi range) with 4680s built in Texas to their inventory with ~40 currently for sale across the county starting at ~$64,000 just a couple thousand dollars cheaper than a Long Range AWD (330mi range). pic.twitter.com/EPPhBXaPWa

— The Kilowatts 🚗⚡️ (@klwtts) January 10, 2023
The Model Y AWD is available for just a few thousand dollars less than the Long Range (LR) variant, which starts at $65,990 in the US. The biggest difference is of course the structural battery pack and 4680 cells, which gives it a slightly lower range of 279 miles (449km) compared to 329 miles (531km) for the LR.
The first time these vehicles appeared was at the opening of Giga Texas at the Cyber Rodeo last year when as many as 20 were delivered to employees. Fans were hoping it would soon be added to the Design Studio, but they have so far only intermittently appeared on the existing inventory section of the website as Tesla ramps production of 4680 cells.
As of the most recent update from Tesla they were able to produce 868,000 of these cells, enough to produce 1,000 EVs, during a seven day period last month. Hopefully with this production ramp we will see the Model Y AWD added to the online configurator for anyone to order. There are hints that will happen soon as this variant recently reappeared in the source code.