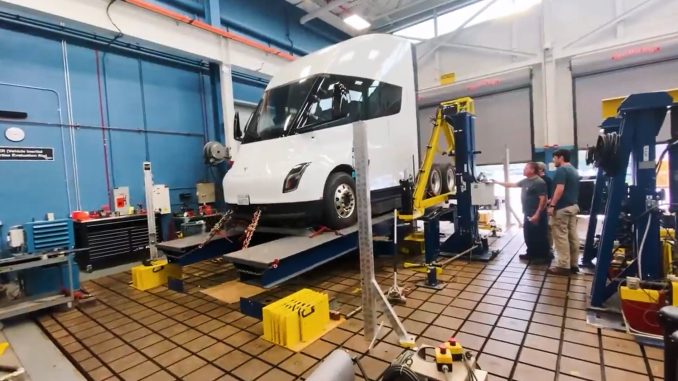 Tesla is preparing to build a nearly 45,000 square foot Collision Center in Reno, Nevada. This won't be your ordinary Collision Center however as it is the first known location with dedicated areas to repair the Tesla Semi.
The Semi is currently being built on a temporary production line at a facility a few minutes north of Giga Nevada. It is presumed that Giga Nevada is also the only place where Tesla can currently perform repairs and maintenance on the Semi, but that is soon going to change.
The new Collision Center is going to be located at 1195 Corporate Blvd, just a short 21 mile drive away from Giga Nevada. According to building plans uncovered by Drive Tesla the existing building will be demolished and in its place a new 44,477 square foot building will go up, which according to the permit value will cost around $4.4 million.
The plans show there will be 5 dedicated stalls inside the building to work on the Semi. Three of those stalls will be located near the middle of the building near a space labelled "Semi Paint Booth." There is a large bay door on the left (rear) side of the building that has an "open bay for Semi," along with another bay directly adjacent to it that has no label but we can tell it is also for the Semi based on the flow lines leading from the Paint Booth.
There will also be a double wash bay at the bottom right corner that also includes a space for the Semi.
A listing of some of the equipment that will be added to the Collision Center specifically for the Semi include the Paint Booth mentioned above, as well as an "alignment system, lift wheel balancer and tire changer."
Outside the building there will be 5 parking spots (17′ x 29′) for the Semi as well as extra space for "Semi truck maneuvering."
Given that this project involves both the demolition of the existing building and the construction of the new building, this Collision Center likely won't open until at least towards the end of 2023, if not into early 2024.
Tesla has so far delivered as many as 36 of their electric Semi trucks to Pepsi, with the company expecting to grow their fleet of at least 100 this year.
Permits for both projects are only listed as active so we are unsure if work has begun. If any of our readers are in the area and can check on the current state of construction, let us know in the comments below, tag us on Twitter (@driveteslaca), or email us at tips@driveteslacanada.ca.