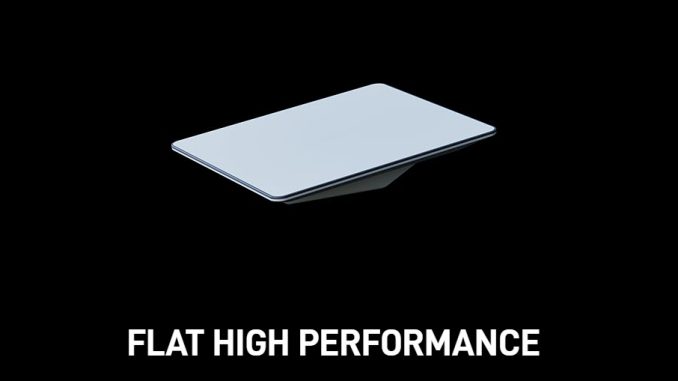 Starlink has started ramping up its direct-to-consumer email campaign, offering a pretty good deal on its High Performance Starlink Kit.
Per the SpaceX email, the company is now offering $600 off an upgrade to the High Performance Starlink Kit.
The regular pricing of the kit is $2,500, but with the new pricing, it is down to $1,900. (via Reddit)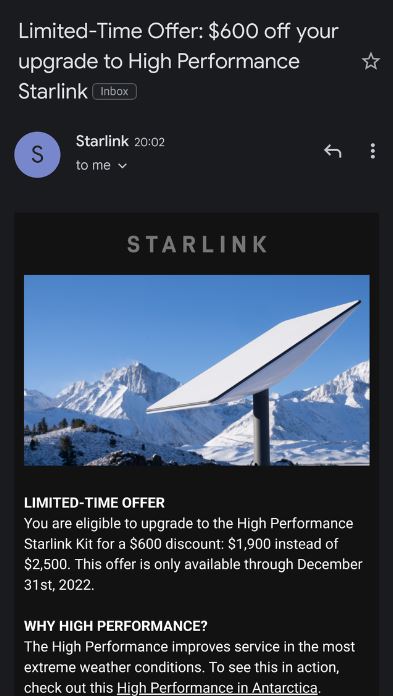 However, the deal is only available through the end of the year.
The High Performance Starlink Kit is designed for use in the most extreme weather conditions.
The email even includes a video of one of the dishes in use in Antarctica.
The post on Reddit seems to have garnered a lot of attention.
For instance, TheRenamed, a Reddit user in Australia, has access to Dishy V1b, Dishy V1a and HP Dishy and did a side-by-side comparison for those considering the upgrade.
Dishy V1b – Downtime 2min 23 seconds
Dishy V2a (rectangle dish) – Downtime 3 mins 58 seconds.
HP dishy – Downtime 47 Seconds.
Dishy V1b – DL-270-410mb/s (avg 312mb/s) UL – 22-49mbs (Avg 36mb/s)
Dishy V2a (rectangle dish) – DL-230-402mb/s (avg 274mb/s) UL – 13-41mbs (Avg 31mb/s)
HP dishy – DL-290-476mb/s (avg 379mb/s) UL – 35-55mbs (Avg 40mb/s)
So is the upgrade worth it, maybe? But at this cost, if you were considering the High Performance Dish, it is certainly worth considering.