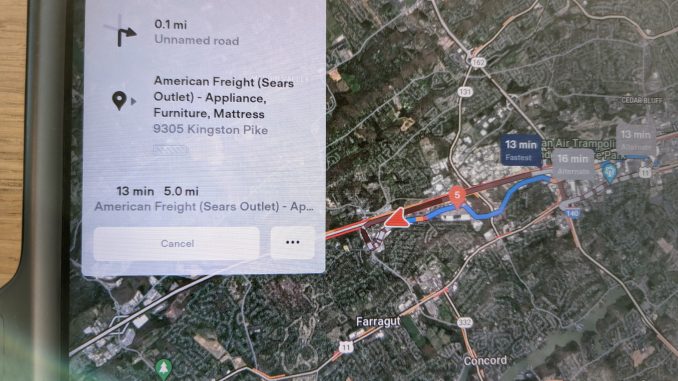 Alternate routes is something that has been around for a long time in the world of navigation, but it is a feature that Tesla has for whatever reason been reluctant to add to their software. As the name implies, the feature gives users the ability to select from multiple route options, displaying both the distance and time each route will take.
While some routes might take longer, it may also be over a shorter distance, something which a driver might want to pick. Drivers might also want to pick a certain route because of personal preference, but currently Tesla owners are stuck with the lone routing option provided in the in-car navigation.
Tesla has so far added alternate routes in China and Japan this year, but it looks like it is about to make its way to North America in a soon-to-be released software update.
Citing an anonymous source, Not A Tesla App is reporting that alternate routes is coming soon in the 2022.28 software update, sharing a photo of the feature with three routes to the same destination, one taking 18 minutes to complete and noted as being the fastest, with the other two taking 19 minutes.
This is not the first time we have seen alternate routes for North America owners, as it is something that Tesla has had it waiting in the wings for at least several months.
Back in June hacker @greentheonly was able to turn the feature on in his car in software version 2022.12.3.20, which was FSD Beta 10.12.2.
Green also shared a video of the feature in action, showing that once you enter in your destination the alternate routes appear on the screen and you select which one you want by tapping on the bubble with the time estimate.
Tesla has made a number of navigation improvements so far this year. Live traffic visualizations along your route were added in 2022.24, as well as routing to less busy Superchargers in 2022.16.
The trip consumption estimate has also been recently updated and now takes into account external factors such as wind, humidity, and temperature when doing range calculations.
While 2022.28 is still a week or two away from a public release, we also know it will include the ability to minimize the Tesla Theater so you can access vehicle controls while still watching Netflix or Disney+.