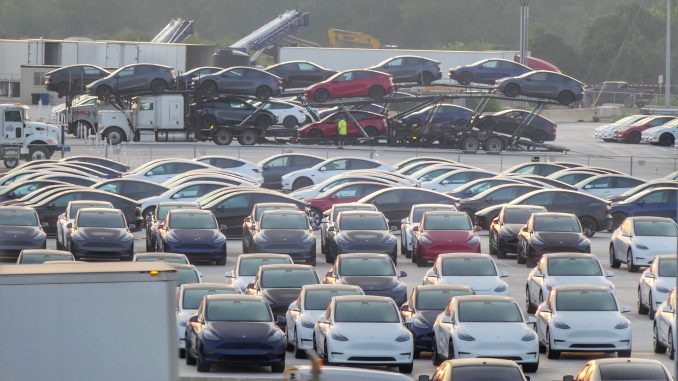 Tesla has been striving to build their electric vehicles at a lower per unit cost than traditional internal combustion engine (ICE) vehicles. To get there the company has been keenly focused on designing and building their Gigafactories, which CEO Elon Musk says is like "building the machine that builds the machine," in turn making the factory part of the overall production process.
When Tesla entered production hell with the ramp of the Model 3 in 2017, each vehicle that rolled off the production line in Fremont was being sold at a loss.
According to VP of Investor Relations Martin Viecha, who spoke at a Goldman Sachs conference in San Francisco on Monday, each vehicle cost $84,000 to build.
However Musk's vision of automation and manufacturing simplification has paid off, and in the five years since the Model 3 was introduced, that cost has shrunk more than 57% to just $36,000 per vehicle.
What makes these massive savings even more remarkable is that none of it came from cheaper battery costs, traditionally the most expensive part of the car to produce.
Viecha said the savings were realized from their new Gigafactory design and simplified vehicle design making manufacturing easier and quicker.
He also added that as their purpose-built Gigafactories ramp and produce more cars, that $36,000 cost will shrink even further.
But Viecha also pointed out that theses low costs will not translate into a new cheaper model Tesla in the near future. This is because of the extremely high demand for the Model 3 and Model Y, which has been stronger than expected and "reduces the need for a new model any time soon." (via Business Insider)
Even though their Fremont factory has carried the company through its most difficult years, it is quickly becoming a less than ideal place to build cars compared to the company's new Gigafactories in Shanghai, Berlin, and Texas, which Viecha says can produce cars at a cheaper rate than Fremont.
This doesn't mean Tesla is giving up on its first vehicle factory. The opposite is happening as Tesla recently filed plans to add a battery manufacturing line. Musk has also said recently they are considering  expanding Fremont significantly, but he did not provide details on what that expansion might look like.
Viecha also shared at the conference on Monday that for the first time in many years Tesla has enough battery supply for both their automotive and energy businesses.