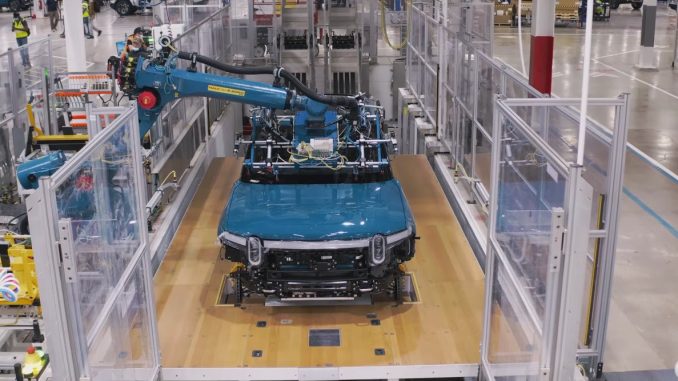 Rivian production of the R1T is finally starting to ramp up after a week pause at the automaker's plant in Normal, Illinois.
The pause allowed Rivian to apply some fixes and process improvements to the production line
As per sources close to Rivian that spoke with Bloomberg, production of R1T is now almost 200 delivery-ready units per week.
This is promising news considering the automaker missed its 2021 production goals and only averaged 50 cars per week through the end of 2021.
The sources noted that the slow-downs in the line were two-fold.
First and foremost, the plant had a COVID-19 outbreak, which forced Rivian to slow down the line.
Secondly, the company produces two vehicles off the same line, and the R1S is still pre-production. Thus, the entire line slows down when an R1S is heading through.
Rivian also produces their EV delivery van in the same plant. However, it is on a separate assembly line. Rivian will deliver 10,000 vans to Amazon by the end of the year. The sources did not provide delivery van production numbers.
At peak capacity, the Normal facility can produce 150,000 EVs per year. However, at the moment, that is a pipedream for the start-up automaker.
One can hope that the company can continue to deliver vehicles as the R1T is in high demand across North America.