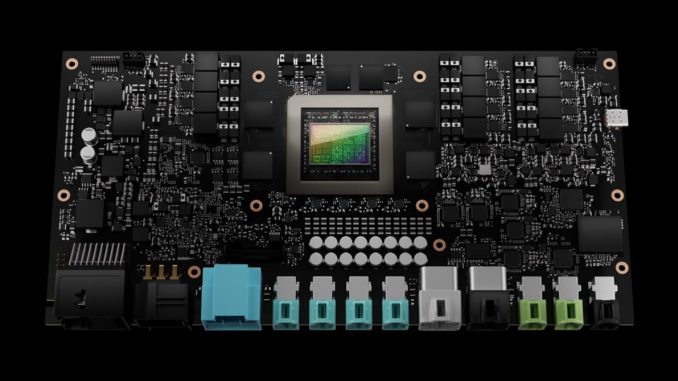 NVIDIA has unveiled its next generation chip which the company says will not only be able to help drive your car autonomously, but also perform a wide range of other vehicle functions like driver monitoring and in-car entertainment.
Called Drive Thor, the chip was unveiled at the company's GTC conference this week by founder and CEO Jensen Huang.
The chip is still a few years away and not expected to enter production until 2025. In the world of technology that is very far into the future, but NVIDIA believes it will still be at the leading edge of automotive chips and provide 2,000 teraflops of performance.
For comparison, its current automotive chip Drive Orin provides 250 teraflops.
According to NVIDIA's vice president of automotive Danny Shapiro, Drive Thor will bring together various vehicle functions that are currently powered by different systems, like the digital cluster, infotainment apps, and more.
This unification will allow for greater efficiency in development and faster software iteration. It will also help to bring the overall cost of the system down.
"If we look at a car today, advanced driver assistance systems, parking, driver monitoring, camera mirrors, digital instrument cluster and infotainment are all different computers distributed throughout the vehicle. In 2025, these functions will no longer be separate computers. Rather, Drive Thor will enable manufacturers to efficiently consolidate these functions into a single system, reducing overall system cost," said Shapiro.
The first automaker to implement Drive Thor in their vehicles will be Zeekr, a Chinese luxury EV brand owned by Geely. The company plans to use the advanced chip for its vehicles starting in the 2025 model year.