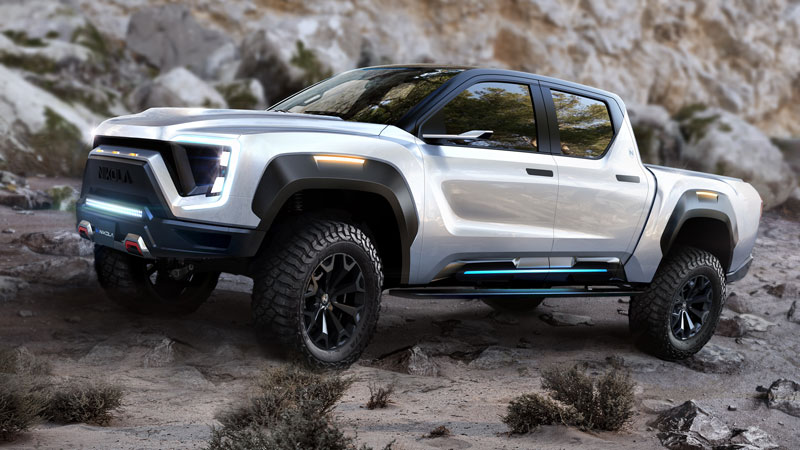 General Motors (GM) and Nikola Motors announced this morning a strategic partnership that will, among other things, see GM "engineer, validate, homologate and build" the Nikola Badger pickup truck.
The Nikola Badger has had an interesting journey to reach this point. After the Cybertruck unveiling, Nikola executive chairman Trevor Milton offered Tesla CEO Elon Musk the design for free, saying his company wouldn't be making it.
That changed soon after, with Milton announcing earlier this year they would bring the Badger to market due to high interest in the product. The company then began taking reservations for the truck in June.
The only catch was they weren't going to do it themselves, instead hoping to sign with a legacy automaker to do the grunt work for them.
With the announcement this morning, Nikola has found that third-party in GM, who will get an $2 billion equity stake in Nikola in exchange.
Nikola Motor and General Motors announcement. Unstoppable. #nikolabadger is one of the most anticipated vehicles coming to market and who better than GM to help engineer, validate, test and manufacture. Estimated 4 billion in savings to Nikola. Nikola + GM announced today. pic.twitter.com/9RJc9Ddq6J

— Trevor Milton (@nikolatrevor) September 8, 2020
While the lead-up to this announcement has been no surprise, the details of the deal certainly are, as it appears to confirm what many have been saying for a long time – the Nikola Badger was nothing more than renders and Nikola has no intellectual property to speak of.
For quite some time, Milton has been touting his company's revolutionary battery cell and hydrogen fuel cell technology that would see it take on the current EV industry leader, Tesla.
But according to the press release, it appears Milton's grandiose claims were just that, as Nikola will use GM's Ultium battery system and Hydrotec fuel cell technology in the vehicles.
"As part of the agreement, Nikola will utilize General Motors' Ultium battery system and Hydrotec fuel cell technology, representing a key commercialization milestone for General Motors."
The deal not only covers the Nikola Badger, but also extends to the Nikola Tre, Nikola One, and Nikola Two semi trucks, and the off-road NZT.
So if Nikola is no longer using their proprietary technology in their vehicles, what exactly are they doing as part of the deal?
"Nikola will be responsible for the sales and marketing for the Badger and will retain the Nikola Badger brand."
Nikola shares (NKLA) were up more than 40% after the announcement, while General Motors (GM) shares were up a more modest 8%.