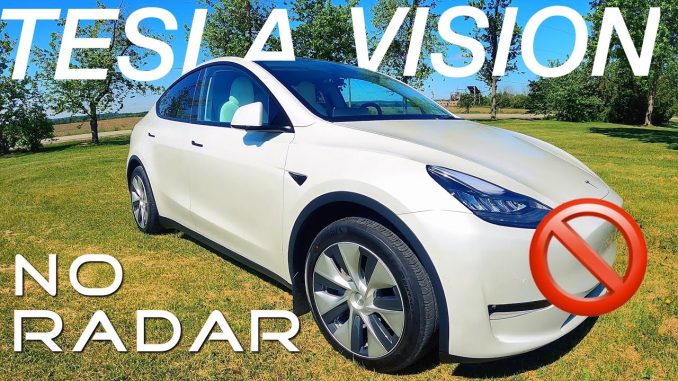 Tesla has started transitioning more of their vehicles equipped with radar to Tesla Vision with their 2022.20.9 software update. Tesla Vision relies on the car's multiple cameras to power its safety features and driver-assist software, instead of radar.
Tesla Vision was first introduced in May 2021 when the automaker announced that all new Model 3 and Model Y builds no longer included radar. Nearly a year later Tesla also ditched radar in new Model S and Model X builds out of Fremont, transitioning their flagship vehicles to the camera-based system.
These changes only impacted new builds and only after those particular dates, but now Tesla has started transitioning some of their older vehicles outside of the Full Self-Driving (FSD) Beta program to the camera-based Tesla Vision system.
According to the release notes of software update 2022.20.9, a new feature called 'Speed Assist – Autopilot Improvements' says "your vehicle is now running Tesla Vision!" (via Not A Tesla App)
UPDATE 3:01pm PST: One of our readers in California has confirmed with us that their 2020 Model Y Performance received 2022.20.9 and is now running on Tesla Vision.
As the release notes detail, this version of Tesla Vision still only allows a following distance of between 2 and 7. The Autosteer top speed is also limited to 85mph (140km/h), the level it was increased to from 80mph (130km/h) earlier this year. It is still however below the speed limit of 90mph (145km/h) for cars not on Tesla Vision.
This update appears to be quite limited so far as there have been very few reports of owners receiving it. It was first spotted yesterday on a Model Y in Australia by update tracker Teslascope, which has just 7 cars (1 Model S and 6 Model Ys) on its platform with this version at the time of publication.
TeslaFi is not much better with 18 installs of 2022.20.9 recorded yesterday, and just 4 today. TeslaFi does however show that it has appeared on all Tesla models, but only in the US and Australia/New Zealand.
If you have received 2022.20.9, let us know in the comments below or reach out to us at tips@driveteslacanada.ca.