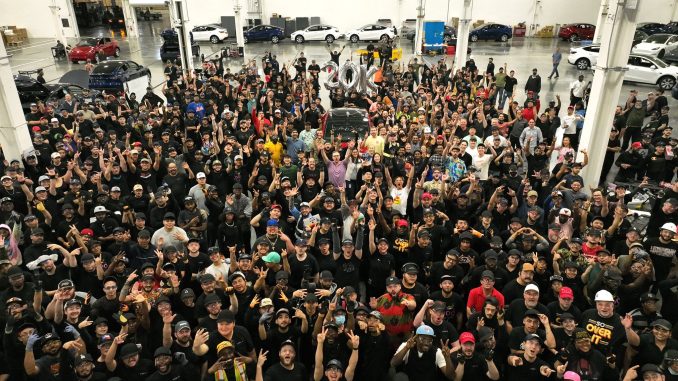 Tesla announced on Sunday morning that Giga Texas has hit another major milestone in its production ramp, building the 20,000th Model Y earlier that week.
As Tesla has done with other significant production milestones, they shared a photo of the 20,000th Model Y surrounded by the employees that helped build it.
20k Model Y built at Giga Texas to date! pic.twitter.com/8Rl5ZqgqQq

— Tesla (@Tesla) October 30, 2022
Giga Texas officially opened on April 7, 2022 with the Cyber Rodeo. That means the factory has produced on average 132 cars per day since opening, but that relatively low figure doesn't give an indication of how the production ramp is going since the number of cars being produced in the factory's early days was much lower than it is now.
To get a better sense of the speed of the ramp we can look at Tesla's last Giga Texas production announcement. On September 17 the automaker revealed the new factory had hit 10,000 Model Ys produced, 108 days after it first opened.
Tesla has been able to reduce the number of days it took to build the next 10,000 Model Ys by more than half that amount, to just 43 days.
That puts Giga Texas almost on par with Giga Shanghai's production ramp, which built its first 20,000 cars in exactly 100 days, as calculated by Tesla tracker and analyst Troy Teslike (@TroyTeslike).
Tesla hasn't announced how many cars Giga Berlin has produced to date, most recently saying on October 1 that the factory is now producing 2,000 cars per week.
However it appears to be going slower than Giga Texas based on Troy's calculations, which says it hit 20,000 cars produced to date in 187 days.
As of the Q3 2022 shareholder deck published earlier this month, Giga Texas was still listed as having an annual production capacity of >250,000 units.
That number will increase even further next year when the Cybertruck production lines open up, which is expected to happen in mid-2023. The Semi is also slated to be produced at Giga Texas, but the automaker is currently using a new building at Giga Nevada to build the first units going to PepsiCo on December 1.