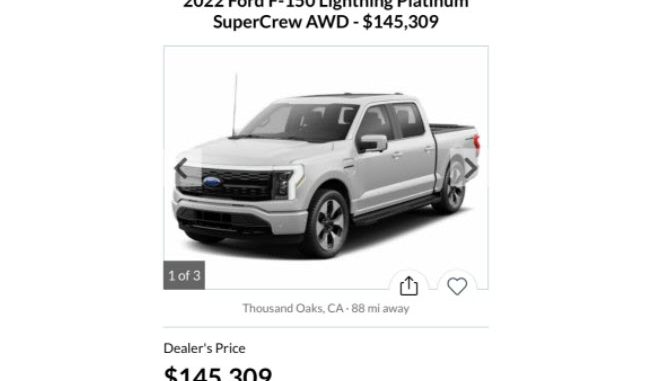 With extremely high levels of demand and with Ford no longer taking orders for the F-150 Lightning, one dealership in California is looking to cash in.
At the DHC Ford of Thousand Oaks, you can purchase a brand new 2022 F-150 Lightning Platinum SuperCrew for just $145,309. We say 'just' facetiously because the MSRP on that configuration is $90,874, according to the Lightning Owners Forum, meaning this particular dealer is charging more than a 50% premium on the electric pickup truck.
The deals don't stop there. According to their website they also have another two Lightnings in their inventory for $130,749 each, a $15,000 discount compared to the EV above.
You might recall that Ford has previously warned their dealership network against demanding customers pay extra deposits to secure their original Lightning order. In a January memo from Andrew Frick, Vice President of Sales, US & Canada, Ford said if dealers continue to demand extra payments they face the potential of losing their allocation of F-150 Lightning trucks for all of the 2022 model year production.
The letter didn't specifically say anything about "market adjustments" once the vehicles were in the hands of dealers though, but did say they would take action against dealers engaging in practices that were "negatively impacting customer satisfaction" and "damaging to the Ford Motor Company brand and Dealer Body reputation."
They also recently threatened a $25,000 fine if dealers sold their demo units too soon.
It will be interesting to see if Ford follows through and makes this dealer adjust their pricing to something a little more reasonable.
Ford suggests no-resale clauses to prevent F-150 Lightning flipping, warns dealers against market adjustments