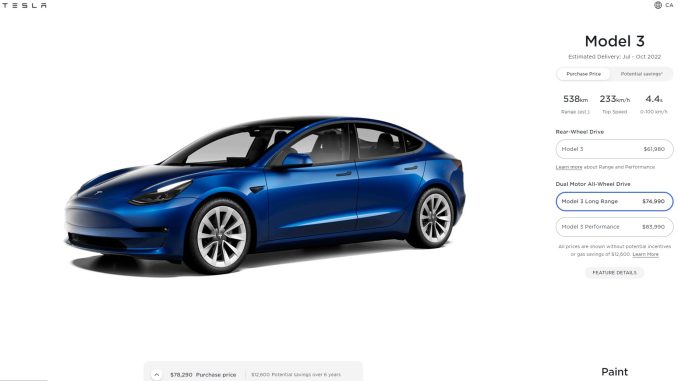 In March Tesla updated their policies to allow customers who have placed an order but not yet been assigned a vehicle to edit their design and maintain their original pricing.
This was a significant new policy because until then any change to your configuration would update your vehicle's price to current levels, which with Tesla's ever increasing prices as of late meant it could add more than ten thousand dollars to your order.
When we first reported on the change the new policy was only in effect for customers in the US, but Drive Tesla has learned it has now been extended to Canada.
Once you have logged into your account and clicked on the 'Edit Design' link, you are presented with an internal Design Studio that displays pricing as of the time you placed your order. We have a Model Y Long Range on order that has a base price of $76,990, which is $7,000 less than the current price of $83,990.
We can also choose to upgrade to the Model Y Performance at $85,290, a savings of $5,100 compared to today's prices, and just $1,300 more than the current price for the Long Range variant.
You might notice that the prices are actually $600 more, but according to our information that is due to Tesla raising their delivery fee by that amount.
It is important to note that changes can delay your estimated delivery date.
UPDATE 2:47pm PST: We have heard from several of our readers that they do not have the 'Edit Design' button, even for orders as recent as February. We have also heard from one reservation holder that a change may impact their eligibility for qualifying for the iZEV rebate. We recommend checking with your delivery advisor before making any changes.
When the policy was rolled out to the US earlier this year, customers who had placed an order on or after August 1, 2021 did not have the ability to edit their design, but Tesla said they were working on bringing the feature to them soon.
We have checked with a few of our readers and it appears that limitation is still in place, even for orders as late as mid-October.
Leave us a comment below, including what your order date was, if you do not have the 'Edit Design' link in your account.