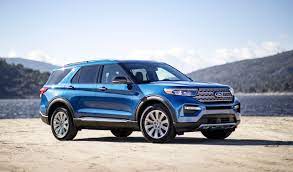 According to Automotive News, an electric version of the popular Ford Explorer will launch in 2023. In addition, according to the same reporting, the vehicle will be built at the Ford Cuautitlan Assembly Plant in Mexico.
However, the ICE-powered Explorer models production will continue at the Ford Chicago Assembly Plant.
This means that the Ford Explorer EV and the Ford Mustang Mach-E will share a production facility. This confirms what Ford CEO Jim Farley noted in May that an EV version of the Explorer was in development.
Currently, the Explorer has a hybrid and plug-in hybrid model for sale in addition to its gas-powered options. Although, the plug-in hybrid is not in North America.
There have been no confirmations on the exact specifications or any range or battery details released by the company. However, many expect that Ford will continue the trend of their EV lineup being more powerful than the gas lineup.
The Ford F-150 Lightning is the more powerful pickup in the Ford F-Series lineup, and has already amassed 130,000 reservations ahead of its launch next Spring.