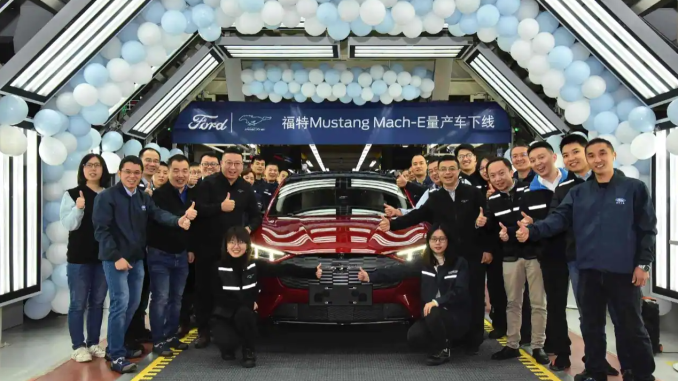 Ford has announced today that the first made-in-China Mustang Mach-E has rolled off the production line at its facility in Chongqing.
With the milestone, the automaker said the first Mach-E deliveries in China should take place before the end of the year.
After opening up for pre-orders in April, Ford said they are now officially taking orders for the Mach-E in China. In a press release on Monday the automaker outlined the different trim versions that will be available in the Chinese market, with prices ranging from ¥265,000 to ¥379,900 ($41,200-$59,000 USD).
Mustang Mach-E GT First Edition
Mustang Mach-E GT
Wujiang RWD (Long Range)
Wujiang RWD Premium (Long Range)
Yueshi RWD (Standard Range)
Any customer that completes the sale before the end of the year will receive roadside assistance, access to retail finance and replacement plans, as well as an unspecified "referral bonus."
Buyer who opt for the top-of-the-line GT First Edition will also receive a limited edition, custom-made exclusive premium gift package. No details were provided on what the gift might be.
Ford added the Standard Range Mach-E to the Chinese line-up earlier this summer. The addition was in direct response to Tesla adding the Standard Range Model Y to its online configurator in China in July.
Ford to sell directly to buyers in China as Mach-E reservations open