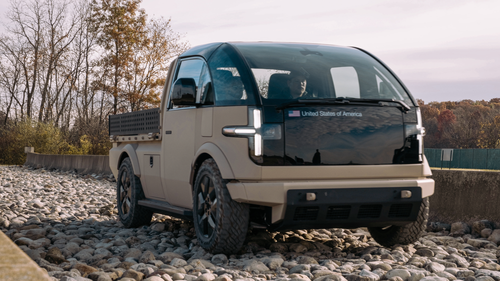 Canoo has delivered its electric vehicle to the US military. The EV startup got a contract to supply its light and tactical vehicle for analysis and demonstration last July.
The Canoo Light Tactical Vehicle can be converted into a flatbed truck from a pickup. In this configuration, the LTV can carry Standard sized plywood, construction, and oversized materials.
However, more for military purposes, the LTV can also carry tactical equipment or attachments on missions.
Canoo uses a proprietary modular attachment system and accessories that allow rapid connection of racks, ramps, storage boxes, tents, tactical systems, etc. The company claims the upfitting tech enables the military to spend less on its hardware.
"The LTV is another milestone proving the power of our technology and how it can be used, even in tactical situations," said Tony Aquila, Chairman & CEO at Canoo. "This is a winning algorithm for our customers and company."
The LTV produces up to 600 hp using a proprietary all-wheel drive train. It can take on rougher terrains thanks to airsprings, raised suspensions, and 32-inch all-terrain tires for higher ground clearance.
Canoo promises to release the full specifications of the LTV closer to production.
The startup has come a long way from when it was plagued with management issues. It seems to have a way with government agencies, having also secured a contract with NASA to supply the vehicles to transport astronauts to the launch pad for the Artemis mission to the moon.
It is also providing its vehicles to Walmart, Zeeba, and Kingbee.