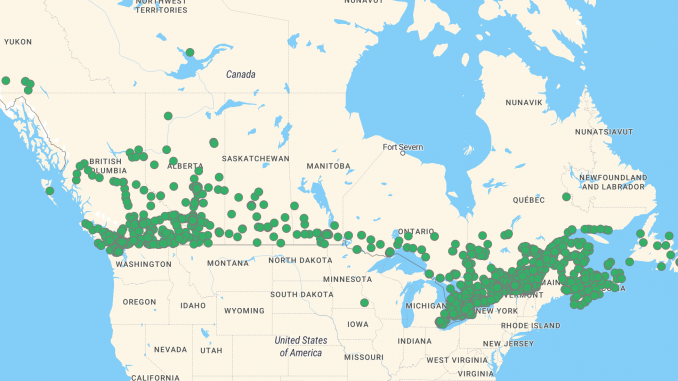 Since the beginning of the pandemic, there has been a big 22% increase in EV charging stations within Canada.
Natural Resources Canada's data reveals that there was a 15% increase in the total number of EV chargers in public stations. Out of those chargers, 17% are DC fast chargers, which can charge a vehicle within an hour or less. The number of DC fast chargers has increased by 22% since March 2020.
And Tesla owns a majority of those chargers.
Even though Tesla's chargers can only charge their own vehicles, a majority of Canadian EV owners have a Tesla. In 2020, Tesla's Model 3 was the best-selling EV in Canada. It sold nearly 7,000 vehicles – 5,000 more than Chevrolet's Bolt, which came in second place.
Tesla also has one of the most comprehensive EV charging networks in the country. From Vancouver Island to Halifax, there are hundreds of charging outlets. Aside from Newfoundland and Labrador, there are also no major gaps between each station. In addition, Tesla's V3 Superchargers have made Canada one of the first countries in the world to host 250kW stations.
Tesla has 988 DC Fast Chargers across 102 stations and 1,653 Level 2 chargers across 567 stations. In comparison, the rest of the country's network is as follows:
National Networks
FLO:
196 DC Fast Charge stations and 3,163 Level 2 stations
ChargePoint
148 DC Fast Chargers across 100 stations and 2,000 Level 2 chargers across 711 stations
105 DC Fast Chargers across 54 stations and 2 Level 2 chargers across 2 stations
72 DC Fast Chargers across 18 stations
Greenlots
63 DC Fast Chargers across 30 stations and 7 Level 2 chargers across 4 stations
SWTCH Energy
6 DC Fast Chargers across 3 stations and 376 Level 2 characters across 372 stations
Provincial Networks
450 DC Fast Charge stations and 2,456 Level 2 stations
100 DC Fast Chargers across 23 stations
93 DC Fast Chargers across 71 stations
eCharge Network:
26 DC Fast Chargers across 26 stations and 58 Level 2 chargers across 43 stations
Newfoundland and Labrador:
14 Level 2 stations and 14 Level 3 stations
h/t: Electric Autonomy