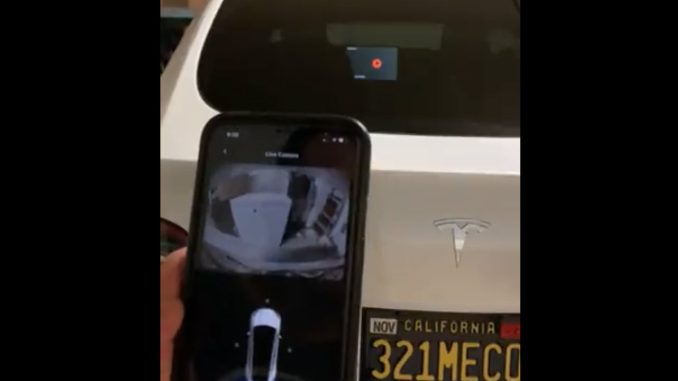 A Tesla Model Y owner gave the community a closer look at Tesla's Sentry Mode's Live Camera Access feature. The clip also includes an example of the voice broadcast system.
The clip by @dezmondOliver on Twitter shows what Tesla owners can see via the feature on the Tesla mobile app. In the video, you see Dezmond access his Tesla's Sentry cameras, and then speak through his car speakers.
The feature even changes the sound of his voice to a deeper, more menacing tone that is sure to scare kids on Halloween help keep your car safe if you notice people getting too close.
https://twitter.com/DriveTeslaca/status/1453948233231724546
Hopefully Live Camera Access doesn't stop with security. Ride the Lightning podcast host Ryan McCaffrey asked Elon Musk if the feature could be used in conjunction with existing functions like Dog Mode. Musk has yet to reply, but it would only make sense for them to add the feature in the future.
@elonmusk Excited about the new live-camera Sentry Mode viewer for the Tesla app.

Question on behalf of all dog owners: can we get access to a live feed of the in-cabin camera as well to check on our dogs when they're hanging out in there with Dog Mode on?

— Ryan McCaffrey (@DMC_Ryan) October 28, 2021
To access the Sentry Mode Live Access you need to subscribe to the Premium Connectivity Package and have the latest version of the Tesla App.
The package costs $13.99 CAD or $9.99 USD per month and includes features like live traffic visualization, caraoke, satellite-wiew maps, music and video streaming.