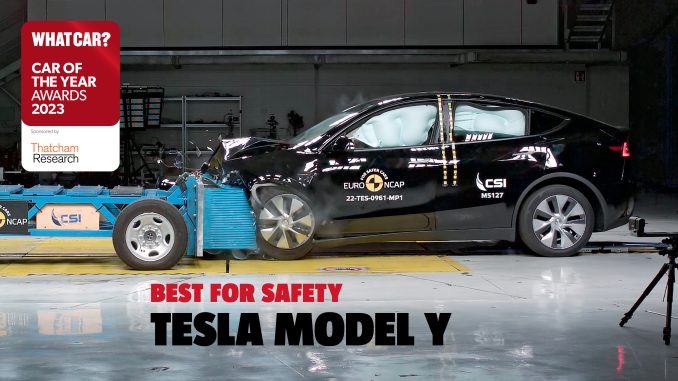 Tesla continues to stack up awards for its cars. The latest is a Safety Award from What Car? for the Model Y for 2023. Among the criteria are active and passive safety features and purchase price.
Tesla cars are known for their safety records. They usually have above-average collision ratings, which have been confirmed by independent agencies. For example, the National Highway Transportation Safety Administration has awarded Tesla five stars for crash safety. The Model S has also garnered Tesla multiple top awards for safety.
The Model Y clinched the Top Safety Pick+ award from the Insurance Institute for Highway Safety in 2022. It also won all possible stars from the European New Car Assessment Programme (Euro NCAP) and the highest overall score ever among all vehicles evaluated by Euro NCAP.
What Car? is an influential platform helping UK buyers choose the best cars for over four decades. It praised Tesla for being quick to include the latest safety features from competition in its vehicles.
The organization urges people to buy the Model Y even though it is relatively expensive because of its safety ratings.
https://twitter.com/whatcar/status/1616203601633808403?s=20&t=t1A6FguKoHunP5BOzu4FvQ
The Model 3 was also awarded by What Car? The electric sedan won the Executive Car of the Year and Efficiency awards.
Tesla CEO Elon Musk agrees with the awards. He commented on Twitter that Tesla cars are the safest on the road, even though most people are not aware.