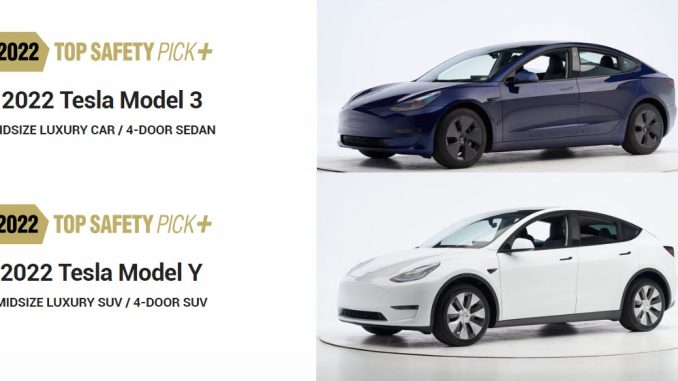 Both the Tesla Model 3 and Model Y have earned the 2022 Top Safety Pick+ award from the Insurance Institute for Highway Safety (IIHS).
Despite this being the 2022 edition of the awards, the safety agency used the results from a 2019 Model 3 Mid-Range, 2019 Model 3 Standard Range Plus, and the 2021 Model Y Long Range to tabulate the rankings.
The results however apply for all model years the vehicles have been available.
Both the Model 3 and Model Y earned the highest ratings available for all six IIHS crash tests. The electric duo also earned the top rating of "Superior" for their Crash Avoidance and Mitigation.
The only difference between the two vehicles came with their headlight ratings. The Model 3 and the Model Y Performance with the new Matrix LED headlights were both rated as "Good."
The Model Y Long Range, which has yet to receive the updated headlights, was rated as "Acceptable" due to "some glare."
The Model 3 and Model Y were among 101 other cars that earned either the Top Safety Pick and Top Safety Pick+ awards. The number is higher than last year (90) due to more automakers updating their headlights.
Next year should see a lower number however as the IIHS announced earlier this month it plans to introduce a nighttime pedestrian crash prevention test.
Tesla Model 3 regains IIHS Top Safety Pick+ and Consumer Reports Top Pick after tests of vision-based safety features