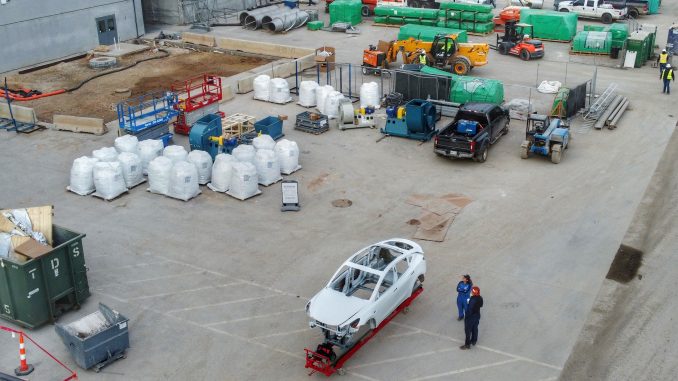 Over the last few weeks Tesla has parked over 200 newly built Model Ys outside Giga Texas. All of them have been Long Range variants with 19″ Gemini wheels – until today.
In a drone flyover of the factory on Wednesday morning, Joe Tegtmeyer (@JoeTegtmeyer) captured several Model Y Performance cars in the holding lot at the south end of the factory.
Joe only uploaded this screenshot from his flyover to his Twitter account, but confirmed with Drive Tesla he saw at least two or three Performance cars with 21″ Uberturbine wheels, which will be seen when he uploads the full video to his YouTube channel later today.
This is only the second time Model Y Performance cars have been seen at Giga Texas. Last month a car carrier with 8 of the electric SUVs in all the available colours was spotted leaving the factory.
UPDATE 9:38am PST: Joe has now posted photos of the cars, and unfortunately they are not Performance cars with Uberturbines, but rather the optional 20″ Induction wheels for the Long Range variant.
https://twitter.com/JoeTegtmeyer/status/1499075256916627457
Joe also captured another interesting development at the factory during his flight. Other than the two white Model Y Performance cars spotted on the carrier, all of the cars seen outside Giga Texas have been either black or blue.
For the first time today a white Model Y body was seen at the north end of the factory where the Paint Shop is located.
This is a good sign because the first known VIN assigned to a Giga Texas reservation holder is also for a white Model Y Performance.
We will update this article once Joe has a chance to upload his video to YouTube later today.
UPDATE 1:40pm PST: Here is the video.