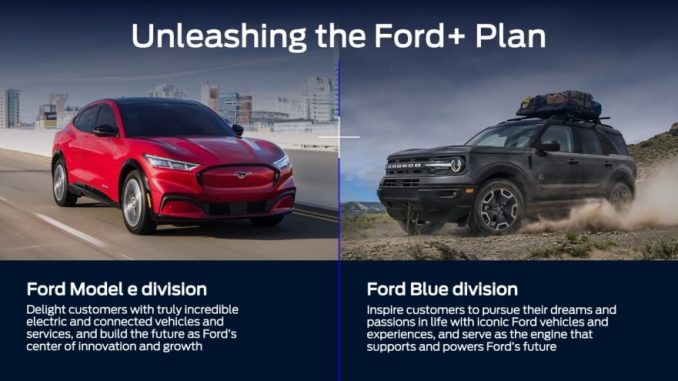 Following weeks and months of rumours, Ford Motor Co. announced on Wednesday plans to run its electric vehicle (EV) business separately from that of its internal combustion engine (ICE) unit.
The new EV unit will be called 'Model e', while the ICE side of the business will operate under the moniker 'Ford Blue'.
The Ford Pro commercial unit will continue to operate as it has since it was launched in May last year.
Ford announced the reorganization in a press release this morning.
"This isn't the first time Ford has reimagined the future and taken our own path," said Ford Executive Chair Bill Ford. "We have an extraordinary opportunity to lead this thrilling new era of connected and electric vehicles, give our customers the very best of Ford, and help make a real difference for the health of the planet."
Former Tesla executive and recent hire Doug Field will serve as Model e's chief EV and digital systems officer.
The Model e unit will be headed by Ford CEO Jim Farley, who will take on the role in addition to his previous responsibilities.
"Ford Model e will be Ford's center of innovation and growth, a team of the world's best software, electrical and automotive talent turned loose to create truly incredible electric vehicles and digital experiences for new generations of Ford customers," Farley said.
In addition to developing new EVs, the Model e unit will also be "creating an exciting new shopping, buying and ownership experience for its future electric vehicle customers that includes simple, intuitive e-commerce platforms, transparent pricing and personalized customer support from Ford ambassadors," Ford said.
With the reorg, Ford said it expects to spend $5 billion on EVs this year, more than double what is spent in 2021.
It is also aiming to production 2 million EVs annually by 2026, a figure which would represent about 1/3 of their global production volume. By 2030, Ford expects EVs to account for half of their global production.
We're making great progress executing our Ford+ plan to grow and create value. Today we're taking the next step.

We're creating two distinct, but strategically interdependent business units we're calling Ford Blue & Ford Model e.

It's a new day for @Ford. Watch to learn more: pic.twitter.com/WrdpHWF5mZ

— Jim Farley (@jimfarley98) March 2, 2022