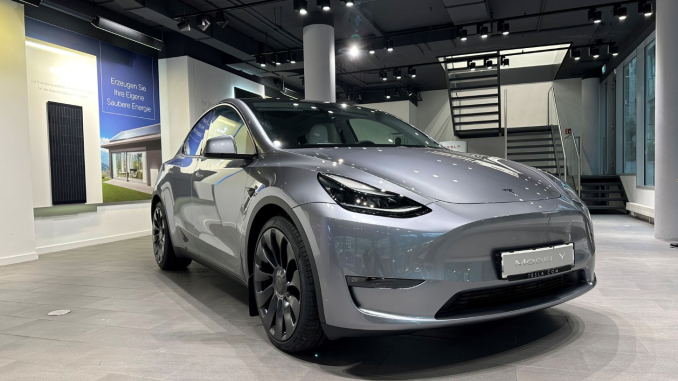 Tesla has shipped some of the first Model Ys finished in the new Quicksilver paint colour to showrooms across Europe, allowing customers to get an up close look at the new colour exclusive to Giga Berlin.
Several weeks ago a batch of newly built Quicksilver Model Ys were spotted outside Giga Berlin. The sighting led many to believe that deliveries of the new colour were going to start soon, but we reported that they were instead going to be put on display at  showrooms across Europe.
That has now happened and they have spotted at multiple Tesla showrooms in Germany, Denmark, and Belgium.
https://twitter.com/DriveTeslaca/status/1599074306482667520
Tesla announced the new Quicksilver paint last month, along with Midnight Cherry Red, both of which will only be offered from Giga Berlin's Paint Shop.
The colour can only be produced at that factory because the "paint shop was specially built to apply many fine layers of paint, giving it complexity not otherwise possible," Elon Musk explained.
While crews at Giga Berlin have been making quite a few Model Ys finished in Quicksilver, there have so far been no sightings of Midnight Cherry Red, and based on information from our sources none have been produced so far.
Deliveries of Quicksilver are expected to begin early next year.
Tesla shows off Quicksilver Model Y for the first time at Swiss auto show [Video]