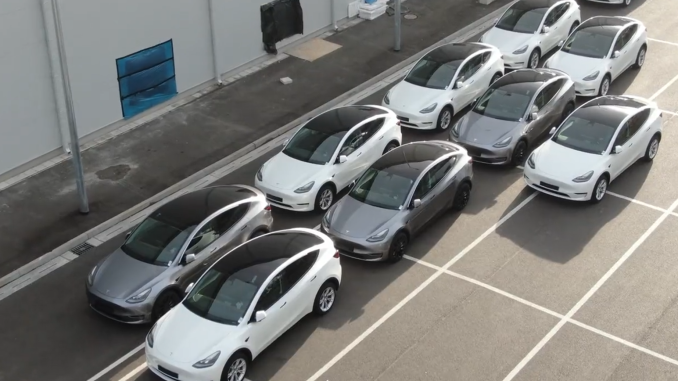 Tesla is getting ready to show off the new Quicksilver Model Y paint colour at showrooms across Europe. Nearly a dozen of the electric SUVs painted in the brand new colour exclusive to Giga Berlin were spotted sitting outside the factory over the weekend.
Captured in a drone flyover by Tobias Lindh, the Model Y Performance cars were seen in a holding area along with dozens of other Model Ys finished in black and white, looking like they are getting ready to be shipped off to new owners.
A few clips from today at #GigaBerlin

The new quicksilver is awesome!!!

Full video later on https://t.co/f7mNxoREBZ pic.twitter.com/1zNA2Ttuje

— Tobias Lindh (@tobilindh) November 13, 2022
#Tesla Model Y cars in Quicksilver spottet today at #GigaBerlin. Who of you ordered one and when is expected delivery? pic.twitter.com/NaZu8YkxzE

— Giga Berlin / Gigafactory 4 (@gigafactory_4) November 12, 2022
However, according to information obtained by Drive Tesla these are not destined for customers but are instead heading off to showrooms so everyone can get an up close look at the new colour.
Tesla is still in their testing and validation phase of the new colour, only producing cars in Quicksilver for internal use. However, the tests have been going well and Tesla is close to beginning production of customers vehicles.
Tesla shows off Quicksilver Model Y for the first time at Swiss auto show [Video]
When Quicksilver was first announced, Tesla's website indicated deliveries would begin in November. Given the current state, there is still a chance that could happen, but it is more likely we will see the first Quicksilver deliveries in December.
Quicksilver wasn't the only new colour announced last month, with Tesla also unveiling Midnight Cherry Red. Production of Model Ys in this colour has not started yet, so it won't be until 2023 until we see them appear like this outside Giga Berlin.
Here is a short clip of the Quicksilver Model Ys from Twitter. We will update this article once the full video is posted to YouTube.
A few clips from today at #GigaBerlin

The new quicksilver is awesome!!!

Full video later on https://t.co/f7mNxoREBZ pic.twitter.com/1zNA2Ttuje

— Tobias Lindh (@tobilindh) November 13, 2022