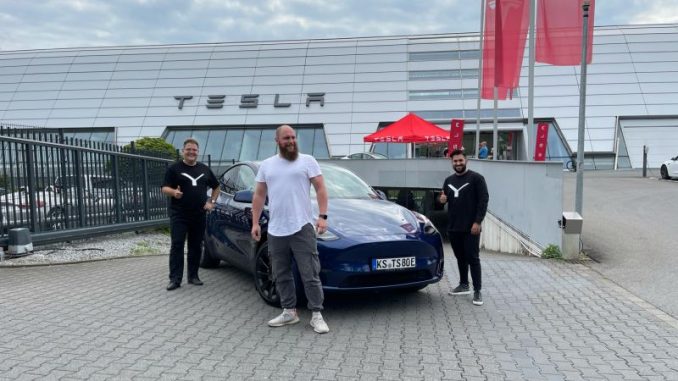 Tesla was originally planning to launch the Model Y in Europe with the opening of Giga Berlin this summer. Facing a delay that could push the opening to the end of the year, Tesla decided to change gears and instead import the electric SUV into Europe from China.
The automaker announced the change with an update to the online Design Studio last month, indicating the first deliveries would begin in late August or early September.
They were right on schedule with that estimate. The first Model Y was delivered in Germany over the weekend.
News of the delivery was shared on LinkedIn by Senior Tesla Advisor Can Dogan. According to the post, the metallic blue Model Y was handed over to the happy new owner at the Dortmund-Holzwickede delivery center in western Germany.
Making the first delivery even more interesting is that the delivery center used to be a Porsche dealership, and is located on a street called Ferdinand-Porsche-Straße.
The introduction of the Model Y in Europe is a significant moment for Tesla and should be a wake-up call to European car manufacturers like Porsche , VW, and Mercedes Benz. The electric SUV has proven to be hugely popular since it was released last year, with recent data showing it makes up more than 40% of all electric vehicle registrations in the the US.
The first Model Y deliveries come just days after they arrived in in Europe with 'Not Model Y' graffiti'd on the side on the side. The decals were meant to poke fun at the camouflage typically used to hide vehicles from prying eyes, and was also a nod to the 'Not A Flamethrower' from Elon Musk's The Boring Company.