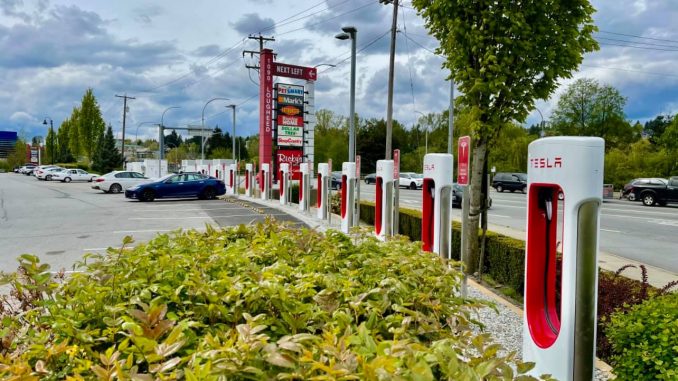 Tesla Canada's Supercharger team has clearly been focused on expanding the network in British Columbia in 2021. So far this year crews have either opened or are in the process of building 13 different locations in the province.
It looks like at least two more could be added to that list in the next few months, including one that hasn't been announced yet by Tesla.
Surrey, BC
Surrey's second Supercharger is said to be going in at the new Guildford Village complex. According to some TMC members with inside knowledge, there will be 8 stalls placed in the mall's underground parking.
So far we have not seen the permits, but both sources seem to be saying the same thing about the site.
The new site is located just 1.3 km from the existing 20-stall V2 Supercharger at Guildford Centre and a bit closer to the Trans-Canada than the existing Supercharger. Tesla recently changed their estimate on the Find Us map, and the site is now expected to open in the first quarter of 2022.
Revelstoke, BC
A 2nd Supercharger is planned for the interior of the province in Revelstoke, according to the crew building the new Invermere charger. When asked by a TOCA member if there were any other sites coming soon, the crew stated they would be building a second location in Revelstoke.
The address was not given, although it could be an expansion of the current location, given that there is no new pin on Tesla's map.
One unconfirmed report says they could be installed at a local Shell station, although it was never confirmed whether Tesla was involved. Shell has also recently been building their own nationwide charging network.
Currently, there are only 4 V2 stalls available in Revelstoke, a prime spot on the Trans-Canada for people heading east, with the nearest Supercharger being 200km away.