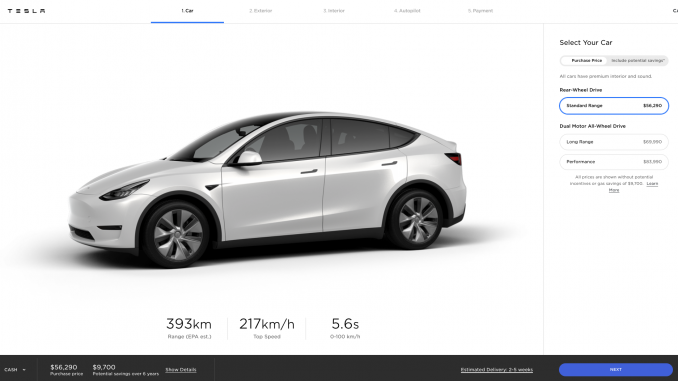 After what may feel like forever for some hopeful Model Y owners, Tesla has finally added the Standard Range (SR) Rear-Wheel Drive Model Y to the Design Studio, along with the option to add the highly-anticipated 7-seat interior.
Priced at $56,290 CAD ($41,990 USD), the SR Model Y comes with an EPA estimated range of 393km (244 miles). That's slightly below the SR+ Model 3, but given its bulkier frame and less aerodynamic profile, it is still a decent amount of range.
Unlike the SR+ Model 3, the SR Model Y comes with the premium interior and sound.
Don't worry if you're thinking Tesla priced it just too high to qualify for the federal iZEV incentive. To qualify, a base Model Y would need to be priced under $45,000 CAD. Tesla did it before with the SR+ Model 3, so hopefully something similar happens with the Model Y.
UPDATE: The online configurator does show that it qualifies for the $3,000 British Columbia EV rebate, but with a "subject to approval" note. It is important to remember the CEV for BC rebate is only available to an individual one time, so if you already purchased the Model 3 with it, you're out of luck with the Model Y. As a workaround, you could get your spouse to put it under their name.
Based on the rules of the $8,000 Quebec EV rebate which say the car must have an MSRP of under $60,000, it should qualify for that incentive, bringing the price down to just $48,290.
Along with the addition of the new Model Y variant, Tesla now allows customers to select the optional 7-seat configuration. At an extra $4,000 CAD ($3,000 USD), you get what is a very small third row which the automaker says is good for "seating for two".
UPDATE: The 7-seat option is not available for the Performance Model Y.
According to the Design Studio it also features a "easy entry" third row with USB-C charging, sliding second row with adjustable seatbacks, and fold flat second and third rows with electronic releases.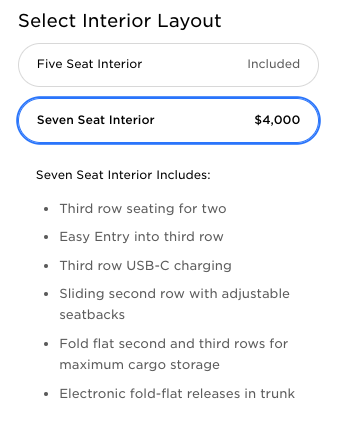 If you are buying one today, the current estimated delivery date is 2-5 weeks out.
The addition of the SR Model Y comes as very unexpected. In July last year CEO Elon Musk said they were not going to sell this variant due to concerns over low range.
Still missing from the Design Studio is the elusive Long Range RWD Model Y.
This is a developing story, check back for updates…