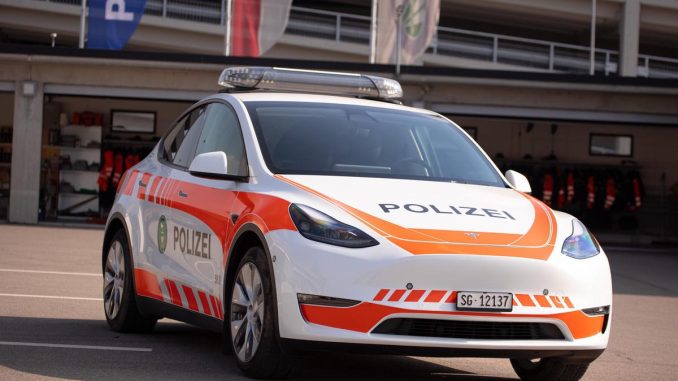 The idea of the Tesla Model Y being a compelling police vehicle is quickly catching on. The latest department to add one to their fleet is in St. Gallen, Switzerland, a police department that is no stranger to electric vehicles (EVs).
The St. Gallen police department shared several images of one of their new cruisers with their signature white and orange colour scheme and custom police lighting.
The police department confirmed with the Swiss publication 20min that they purchased four Model Ys as part of their regular vehicle replacement cycle.
The Model Y cost CHF 65,000 (~$89,700 CAD), plus an extra CHF 15,000 (~$20,700 CAD) to be outfitted with police equipment. Much like other police departments in the US, they are expecting to save money over their traditional ICE cruisers with lower fuel and maintenance costs.
The purchase was also made as part of their commitment to their vehicle strategy, which aims to "use environmentally friendly and future-oriented vehicles and thus make a contribution to the environment," the police department said in a statement.
This isn't the first EV to join the St. Gallen fleet. In 2019 the department purchased 13 Hyundai Kona electric crossovers. According to a report by Autoblog, five are used for regular patrol duty, while the remaining eight are unmarked and used for non-patrol duties.
The first Canadian police department to have a Tesla Model Y cruiser will be the Westshore RCMP on Vancouver Island.
As we reported last week, two Model Ys are currently being outfitted in Ottawa. Once ready for police use, one will be sent to the detachment, while the other will stay and be tested in Ottawa.
Westshore RCMP adds a Tesla Model Y and Mustang Mach-E to fleet
Source: 20min