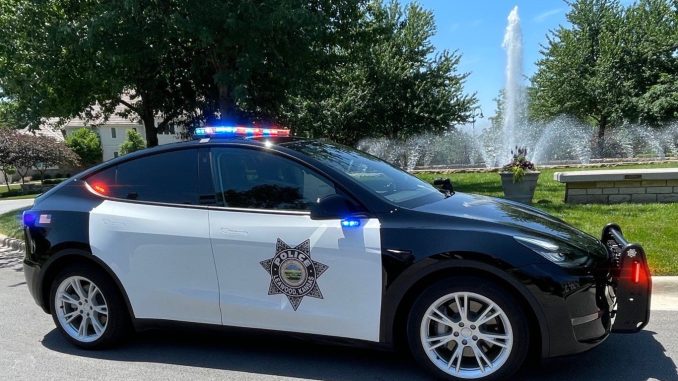 Another police force in the United States has added a Tesla Model Y to their fleet of electric patrol cars, and they are expecting to save a lot of money. This time it is the Leawood Police Department in Kansas, who announced today the addition of a black and white Model Y Long Range to their fleet.
According to a press release from the city, the idea of switching to an EV for their next cruiser began last year. Based on their analysis at the time, when gas cost $1.75 per gallon, they estimated their current Ford Explorer SUV would cost about $4,500 in fuel to operate over one year, compared to just $648 in electricity for the Model Y.
With current prices at around $4.69 in the area according to Gas Buddy, that cost estimate has ballooned to more than $12,000 per year, translating into massive savings in fuel costs, let alone the savings they will also see from less maintenance.
They expect the Model Y to last four years before needing replacing, one year more than their Ford Explorer. If gas prices remain at the same levels they are today, the police department will see close to $50,000 in savings. Given that other police departments are estimating their Teslas will last much longer, some as many as 10 to 12 years, the savings should be even more.
"I think electric vehicles are going to be the future and this is going to be a good foundation for us. Some officers have concerns because this is a smaller vehicle and the extra equipment (of a patrol car) eats into their work space, but others are excited for the new technology," Captain Kirt Yoder said.
The Leawood Police Department will officially unveil their new Tesla Model Y cruiser on July 4th at Leawood City Park.