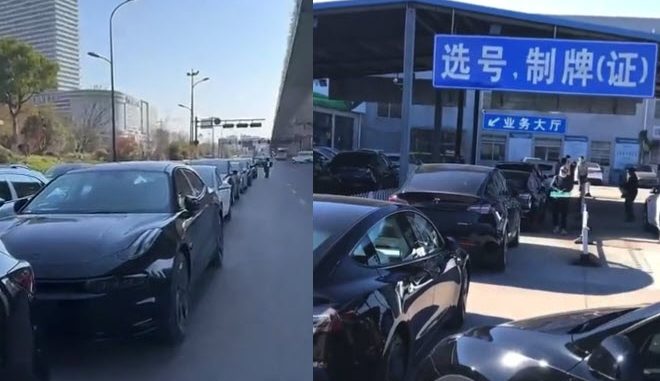 In what is becoming a familiar scene across China, local DMVs are being flooded with Teslas as owners line up to register their new cars before the end of the year.
A long lineup of both Model 3 and Model Y cars stretch down the road as far as the eye can see in one video shared by @42How on Twitter today.
Massive surge of EVs at DMV across country. These EVs are waiting to get their vehicle inspection before getting the license plates.

Busy last few days at the DMV across the country to get the 2021 EV subsidies. #Tesla #TeslaChina #EV #DMV #特斯拉 #中国 $TSLA pic.twitter.com/YodVxXCTsW

— 42HOW (@42how_) December 27, 2021
The phenomenon hasn't been limited to the last few days.
In early December a similar video was shared showing a surge of Tesla Model Ys at the DMV in Suzhou, China.
https://twitter.com/JayinShanghai/status/1466287448636497922
The flood of Tesla Model 3 and Model Y cars is yet another sign that demand is growing and Tesla could have another strong month of sales in December to close out the year.
For the last three months Tesla China has registered more than 50,000 sales, with September marking the all-time high with 56,006 sales.
Part of the reason for the increased sales volume is due to Giga Shanghai's increasing output. Recent production figures indicate the factory has reached an annualized production output of more than 680,000 cars per year, well above the 450,000 Tesla published in their Q3 2021 earnings report.
Tesla to spend $188 million to expand Giga Shanghai production capacity