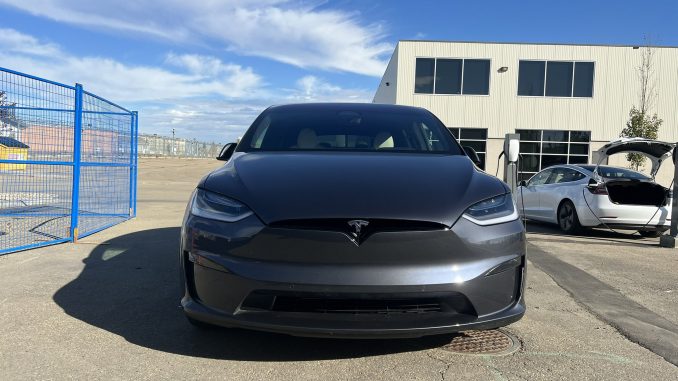 Tesla shut down the Model S and Model X production lines in December 2020 to retool them for the refresh design. While the Model S lines have since restarted and deliveries are back on track, the future for the Model X is still up in the air.
While we wait for official word from the automaker, Drive Tesla received several reports over the last few weeks that a refresh Model X has been shipped to Edmonton, Alberta.
https://twitter.com/DriveTeslaca/status/1433947819375616007
We now have our first photos confirming the Model X has arrived north of the border. Drive Tesla reader George Yang was able to find the electric SUV parked at the Tesla Edmonton store this weekend.
As we first reported, it is Midnight Silver with the white interior and walnut decor. Of course, it also has the infamous yoke steering wheel.
It does however still have the old silver Cyberstream wheels, which Tesla updated to black in mid-August.
UPDATE: Another refresh Model X has been spotted in Ontario at the Vaughan Service Center. This vehicle is also Midnight Silver with the old silver Cyberstream wheels, but features a black interior.
UPDATE #2: It is Model X day in Canada. Now a Plaid variant has been spotted in Quebec City!
https://twitter.com/RisibleVolatile/status/1442607385412001792
When we first heard about this Model X we were told it was in Canada for cold weather testing and is being driven by the Tesla Edmonton service manager. We received this information in August, making it seem strange Tesla would send it for cold weather testing when temperatures were still in the 30's.
Related: Refresh Tesla Model S spotted in Toronto
Given that it is now nearing October and we still don't know when the first deliveries will begin, cold weather testing doesn't seem like too much of a stretch now.
Let us know if you have seen this refresh Model X in Edmonton, or another in Canada in the comments below, or reach out to us at tips@driveteslacanada.ca.