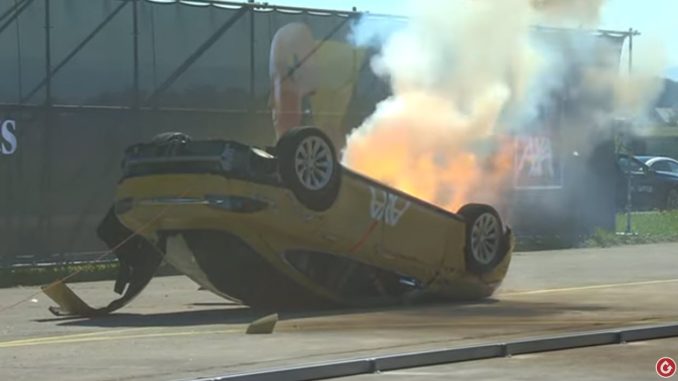 AXA Insurance has attempted to show that electric vehicles (EV) are more dangerous and cause more damage in collisions than internal combustion engine (ICE) vehicles.
To prove their point the company set up an elaborate test that sent a Tesla Model S airborne and soon after catches fire, supposedly to show that EV battery fires are particularly dangerous.
The only catch is they didn't tell anyone the Model S used in their stunt had no batteries in it, and that they intentionally started the fire with pyrotechnics.
A video of the crash test posted to YouTube shows the Model S was pulled to speed with a cable attached ironically to a Model X.
Ignoring the fact that Teslas are the safest cars on the road and have among the lowest probability of rollovers due to the low center of gravity from the heavy battery packs at the bottom of the car, the company send the Model S into a ramp which sent it flying and flipping through the air.
The Model S then comes to rest on its roof a few hundred feet down the track. Miraculously it almost immediately catches fire while a crowd watching the debacle awkwardly claps in the background and a fire truck races to the rescue.
When confronted and asked questions about the test, AXA admitted to 24auto.de that the batteries in the Model S were removed for the test. As for the reason why, AXA said it was because "demonstrating a battery fire would have been too dangerous due to the guests present, which is why the battery cells of the electric cars were removed before the tests." (via Teslarati)
For the same reason the company also admitted to faking the fire with pyrotechnics – "For safety reasons, it was not possible to ignite a real battery fire at an event with around 500 people, which is why a fire with pyrotechnics was staged," the company said.
There has certainly been a lot of FUD (fear, uncertainty, doubt) published about Tesla over the years, but this "test" may take the cake.
You can watch the full test below.