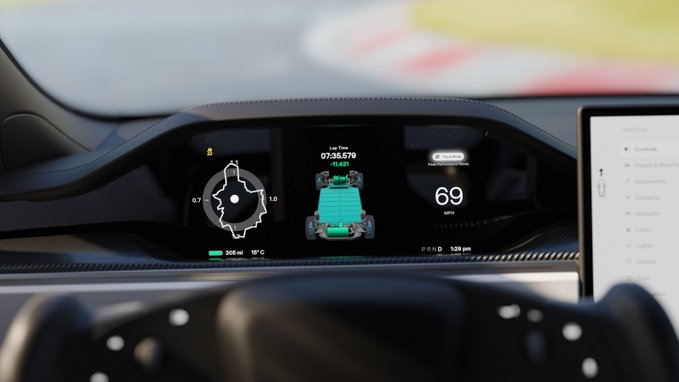 Tesla has officially released more details about the new Track Mode for the Tesla Model S Plaid.
We have already seen numerous owners report receiving the update earlier this week in the US, but have yet to hear of any Canadians being able to download Track Mode.
Plaid Track Mode now rolling out in North Americahttps://t.co/1PR60pNb8H

— Tesla (@Tesla) January 7, 2022
Here are some of the features it includes:
Optimized powertrain cooling
When you activate Plaid Track Mode, the temperature of the battery pack and motors are dropped. Then, the battery and motors are kept cool for longer with a shared coolant loop when on the track.
Increased regenerative braking
Plaid Track Mode also enables an increase in regenerative braking power. The increase in power allows the vehicle to reduce the load on its friction brakes and gives drivers better control around corners.
Adjustable vehicle dynamics
When the Plaid Track Mode is activated, the Model S Plaid can optimize its adaptive suspension dampening for track handling. This means you can enjoy tighter corners and a smooth ride during your time on the track.
Performance UI
Performance UI delivers drivers critical data while on the track. The UI includes dashcam video capture, vehicle telemetry, G-meter, vehicle thermals monitor and a lap timer. In addition, it has other customizable options to ensure you get access to the data you want on a hot lap.
Lateral torque vectoring
Last but certainly not least, on Plaid Track Mode, the vehicle automatically adjusts the torque split across the rear wheels to give you a better grip in and around the corners.
You can read the full blog post here.