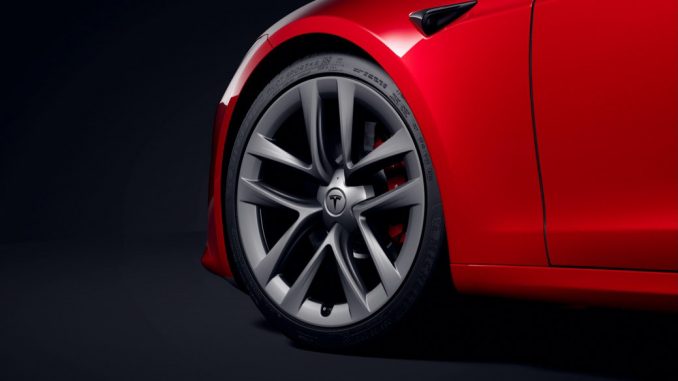 Tesla will soon be adding a new product to their online shop that owners have been waiting a long time for.
According to a 'Winter Driving Tips & Accessories' message sent through the mobile app, Model S owners will soon be able to purchase mud flaps.
Guess Model S mud flaps are coming soon! @SawyerMerritt @DriveTeslaca pic.twitter.com/9WU3XFYg7Y

— Zack (@BLKMDL3) December 22, 2021
UPDATE Dec 23 9.33am PST: Tesla's support website says the new mud flaps will be available in February 2022.
The lack of mud flaps for the electric sedan has been a common complaint among owners for some time. The area around the rear wheel wells and rocker panels are susceptible to paint damage from road debris.
It might not sound like much but when compounded over time the damage can be extensive. Here are some photos of the damage, referred to as sandblasting, from two Model S Plaid owners on TMC.
The new product hasn't been added to the Tesla Shop yet, so we don't know much they will cost, but we can get an idea based on the same product for other vehicles.
Mud flaps for the Model 3 and Model Y cost $50 CAD or $40 USD.